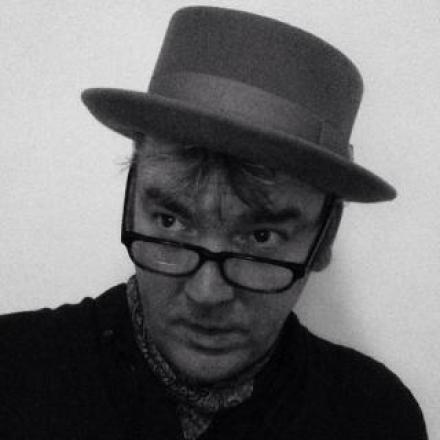 It had already been a bad year for comedy industry deaths even before the late-breaking news that legend Dame June Whitfield had died. In her case one can at least say that she had a good innings. One could say the same for Ken Dodd who finally finished the ultimate gig this year, aged 90. But 2018 may go down as the year when too many people were taken way too early. There was a time this autumn when I started to be nervous going on Facebook in case there was bad news. As as for seeing names trending on Twitter, it was almost a relief to find they were involved in a scandal rather than dead. If I have missed anyone please let me know.
So here are just some of the people that we lost in 2018....
James Miller, comedian best known on the circuit as James Macabre (pictured) died in October. 
John Cowley, comedian also known as Jack Russell died in September. 
Fenella Fielding. The Carry On star died in September, aged 90. 
Actor Alex Beckett from W1A and other hit comedies, died in April, aged 35.
Frasier star John Mahoney died in February, aged 77. 
Barry Chuckle, real name Barry Elliott, of comedy duo The Chuckle Brothers died in August. He was 73.
Legendary Comedy Writer Neil Shand  died in April, aged 84.
Veteran comedy writer Denis Norden died in September. He was 96.
Influential behind-the-scenes comedy man Kim Kinnie died in February. 
1970s/1980s sitcom star Peter Blake died aged 69.
Mitzi Shore, who co-founded the original LA Comedy Store, died in April.
Vicar Of Dibley Star Emma Chambers died in February, aged 53.
Another Vicare of Dibley stalwart and Spike Milligan sidekick John Bluthal died in November. He was 89.
Another famous sitcom face, Bill Maynard died in February aged 89.
Blackadder actor Peter Benson died in september, aged 75.
TV personality Dale Winton died in April.
The husband/manager of comedian Abi Roberts, Terry Gibbons died in November, aged 53.
Ray Galton, who wrote Steptoe & Son and Hancock with Alan Simpson, died aged 89.
London-based talent agent Janie Jenkins, who worked with a number of comedians, died suddenly on October 29, aged 55. 
Actor/director Penny Marshall  died in December.