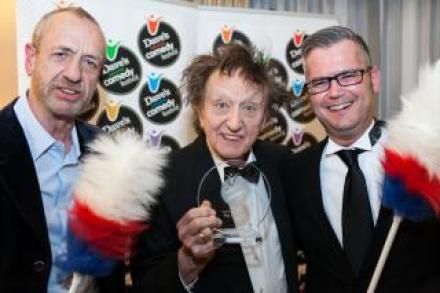 Tributes have been flooding in for Sir Ken Dodd, who has died aged 90.
The legendary Liverpool comedian had recently spent a period in hospital for a chest infection but had been back home and had been talking about performing again.
Dara O Briain was one of the many stars who tweeted: "Ah, Ken Dodd has died. So happy I got to meet him once, and more importantly, saw him do one of his incredible 5 hour shows. He was an education to watch and, afterwards, at 1.30 am, he had beers with me in the dressing room and talked showbiz. A privilege, and a loss. RIP."
Gary Delaney made a touching joke, referring to Dodd's habit of doing marathon gigs: "RIP Sir Ken Dodd. One of the all time greats. The funeral will be held on Wednesday, Thursday, Friday and most of Saturday.
Count Arthur Strong, alias Steve Delaney tweeted: "Oh dear, what a thing to wake up to. The brilliant Sir Ken Dodd has gone. What a career. He was the last man standing. Was a very proud moment when he mentioned my name once."
Robin Ince wrote: "With the death of Ken Dodd, many theatre staff will not merely be mourning the loss of a comedy Legend, but also the loss of all that overtime. He may have short changed the inland revenue, but never the audience."
Gyles Brandreth said: "He had a genius for laughter. And spread happiness wherever he went. The human tickling stick is gone and it's a sadder world. RIP Ken Dodd."
David Walliams added: "Comedy flowed through him like water. RIP Sir Ken Dodd."
Dodd is pictured here in 2014 when he was crowned a Legend of Comedy at an awards ceremony at the Leicester Comedy Festival. He is pictured between comedian Arthur Smith and festival director Geoff Rowe.