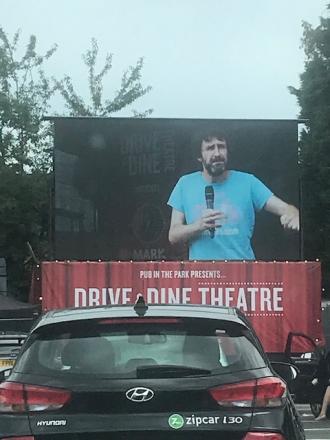 By compere and intrepid organiser Mark Watson's own admission, this is not the perfect way to experience comedy. Parked in your car in the car park of Crystal Palace Football Club on the hottest day of the year.
There's also the contradiction of driving somewhere when most comics would – I hope – be pro-bike, anti-pollution. But fucking hell, this wasn't the first mixed message knocking round on a day when at one point comedy gigs indoors were about to resume according to Matt Hancock, then a few hours later they were cruelly snatched away again by clownmeister general Boris Johnson. 
Yet do you know what, in desperate, muddled up times I'll take my live comedy where I can get it and Watson's event certainly delivered it. I feel a bit like a drive-in comedy veteran after seeing gigs at Brent Cross and Blackheath, and in many ways this was the best of the bunch. The audience was certainly up for it - you've got to admire someone who paid for a Zipcar just to get into the gig (see picture). 
One advantage was that the small crowd and summer daylight meant that there was some genuine nearly-intimate interaction with the audience, who listened via in-car speakers and could watch on a big screen or even - joy or joys – see the acts onstage if you were parked close enough. 
This latest venue on a national tour turned out to be in a residential area so honking your appreciation was verboten. Instead Watson's team had quickly rustled up some mini plastic hand-shaped rattles, which by accident turned out to be a great way of showing your appreciation.
One thing I was afraid of when seeing comedians who had not gigged in a while was that they might be ring rusty, but if they were they didn't show it. Watson was his trademark nerdy self and despite sounding a bit jittery did well to warm up the crowd and put everyone at their ease, chatting with drivers and checking that there was nobody too young for the mature material coming up. 
First act Sophie Duker delivered a mixture of her acclaimed debut Edinburgh show, discussing how she is a triple threat – black, female and "bendy" and how black porn stars tend to be portrayed alongside newer reflections on lockdown where interactions with her mother have become more awkward than usual. It was a consistent set with some particularly strong lines. If you want to read one of the best it is quoted in this feature in Saturday's Guardian.