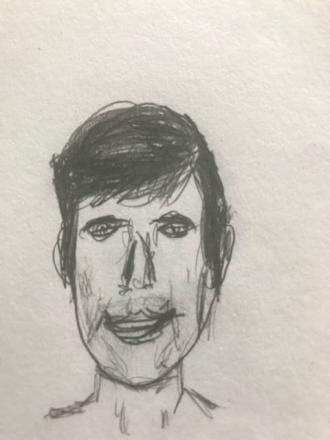 Last weekend we entered the brave new post-apocalyptic world of stand-up comedy that you watch in your cars with the first Drive-In Club shows in Brent Cross. Now second out of the gate is shows from @thedrivein. Their press night revealed that there is clearly more than one way to run a socially distanced drive in comedy event. What follows is more of a comparison the of the two shows than a full in depth comedy review. When you find out how much comedy there was at @thedrivein you'll realise why this isn't your usual comedy review.
The first comparison is the location. Both organisations have other venues lined up which we can't comment on, but for openers @thedrivein won hands down. Where would you choose to spend the evening? In a car park sandwiched between a shopping centre and a major road or on the grass in the middle of a field surrounded by trees and nice Georgian houses? Blackheath wins easily on this one. Their fence also did a better job of keeping out any traffic noise, though, in fairness, both companies use the same audio system, transmitting via your radio using a special frequency, and that aspect worked very well through in Brent Cross and Blackheath. You can hear everything and see everything, though the big screen is a better option than the stage in both locations.
Blackheath had much better weather - sunshine rather than showers on the nights I went. But that's just the luck of the draw. It's funny to think that mid-lockdown when these events were announced we were in the middle of a heatwave that would've been perfect for drive-ins. Now they face the harsh reality of an unpredictable British summer. You can always wind up your windows - after three months at least you are still out of the house.
Both venues observe social distancing, though The Drive-In Club say that you can sit next to your vehicles, which will be nice if sunny. Both allow you to order food and drink online - The Drive-In Club delivers it on a cute golf buggy. It's carried to your car with @thedrivein - the latter is "presented by Suzuki" - it's a shame the sponsors couldn't organise some motorised transport but the old school foot delivery worked fine.
The big difference, however, is in terms of what you get for your money comedy-wise. And if you are a comedy fan who has been deprived of live stand-up for the last three months it's a very big difference indeed. The Drive-In Club is staging proper full-length stand-up gigs with major stars. We saw Daniel Sloss storm it with a one hour set, despite a real storm brewing and wind nearly blowing him offstage.
With @thedrivein the comedy is merely part of the evening's entertainment package alongside 'car-a-oke' singalongs, a DJ set and games. There is not comedy every night - the link below is for the comedy nghts – but there are films every night. It was supposed to be Back To The Future on this occasion but it was changed to Grease. 
Whereas you get a full, meaty headline set at The Drive-In Club, with Bill Bailey, Jason Manford and Adam Kay coming up over the next month, the comedians at @thedrivein only do around 15 minutes. On the night I was in they were clearly grateful that they only had a short slot to fill. Ivo Graham said he had prepard a Back to The Future-themed set which he was dropping due to the film change. Instead he did a quiz with the audience - guess the high street brand of his shirt and win a small prize. I guessed Superdrug. I didn't win.
Andrew Maxwell's brief set sharply underlined the pros and cons of drive-in comedy. He made it clear from the outset that no feedback from the audience was far from ideal for stand-up. And yet the more he talked about dying onstage the more the audience was enjoying it. Maxwell is a pro and delivered his material, about being Irish, about going through airport security with his muslim wife, about lockdown, and it all worked. He just didn't hear the response he wanted or was used to.
It probably didn't help that whereas at Brent Cross the audience was encouraged to hoot to show they were having fun, here honking was apparently not allowed, presumably because of the people in the nice Georgian houses. So there are some advantages to gigging next to a flyover. Also - if this important to you – alcohol was available at Brent Cross but not at Blackheath. Price-wise this review says it's £44 for a car of two people at Brent Cross, Blackheath is £38.50 per car plus as many people as you can legally carry.
Both events are fun nights out. Though let's face it, any night out is going to be fun at the moment. The weather gods smiled on @thedrivein which helped to make up for the lack of stand-up vibe. For simple escapist fun Blackheath won, but if you are a true comedy fan missing your stand-up fix you will be better off checking out the Drive-In Club's Brent Cross line-ups here.
@thedrivein comedy night details here.
Pictures © Dessau