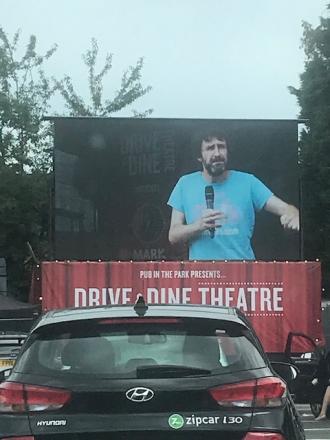 Lou Sanders is one of my favourite comedians at the moment and it is great to see her breaking through. But she does feel like an unlikely comedy star, with a particularly idiosyncratic warped view of the world. At times her set was a little stop/start. A role play routine with the crew filming the gig didn't quite come off and – this may have been a joke – she mentioned that the prompts written on her hands had been wiped off by sanitiser. Washing your hands is generally a good idea but maybe not just before you do some material you are not 100% familiar with. But Sanders is a unique one-off. She's pretty active on Instagram but if you ever get the chance to see her in the flesh again grab it and don't let go. 
I was expecting an interval after the first two acts but Watson suggested that there wasn't much point as we couldn't get out of our cars and go to the bar. I see what he was saying, but it might have been nice just for a quick ten minute break to take stock. You don't want to chat during the acts but as they cannot hear you it is tempting. A break for a quick gossip might have helped to remove the temptation. 
The second half started with slutty Tim Key delivering his odd poetry printed on laminated cards. The material ranged from the new to the classics: "Tania googled herself. Still nothing." His set – which we thought was the headliner but wasn't – also included some lovely clips of Key in sports gear running in and out of a forest and a spoof shampoo ad with his sometime double act partner Tom Basden, which had a pay-off which was both predictable and totally unpredictable. A bit like Key himself. 
Final act was Jen Brister (see picture below), who gets better every time I see her. Her funniest material was about being the gay mum of twin boys – despite her slightly unusual set-up this was totally relatable material. In fact some of it - how you can both love and hate your children equally intensely – was pretty much the conceit of the recent Sky comedy Breeders. Brister was also good on the subject of genital cosmetic surgery, though I'm not sure what some of the younger members of the audience thought of her closing image of testicles being dipped in glitter to look less grotesque. Still, for me it was the perfect metaphor for the gig. Somehow, despite the grey, unappealing setting everything ended up sparkling.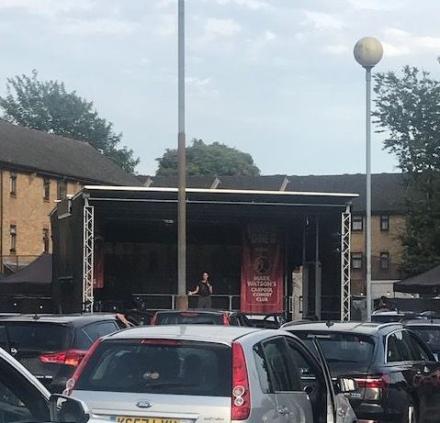 Pages