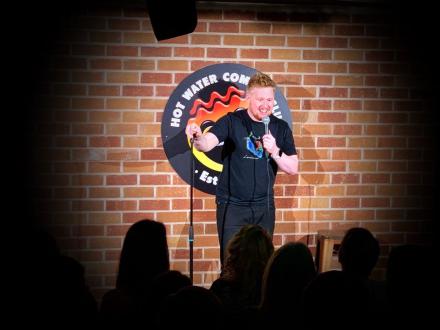 Comedians and comedy clubs have been devastated by the news on Friday that indoor performances at comedy clubs cannot return from Saturday, August 1 as was announced two weeks ago. In a statement by PM Boris Johnson today a decision will now be taken in two weeks about loosening the lockdown guidelines.
The Hot Water Club in Liverpool (pictured, regular MC Paul Smith), which had planned gigs from this weekend, posted a long statement on Facebook: "Two weeks notice and so much hard work to make our venue Covid-19 safe for them to pull back with less than 24 hours notice and make a complete U-turn.
Matt Hancock was asked at 8am this morning 'Can venues like comedy clubs reopen on 1st August?'. His response was 'yes'. What changed in those few hours before the briefing at 12pm?
We've implemented so much, we've spent so much, we've taken staff off the furlough scheme, we've deep cleaned the venue, we've paid for stock, we've ordered food ingredients, we've paid for marketing, we've booked comedians, they've booked travel and accommodation, we've followed guidance for 5 months, we've had zero income since the start of lockdown, we've had to pay for all venue running costs including rent for 5 months.
Our industry has been forgotten about and left to die.
We can't possibly run a business like this. Their Incompetence is messing with people's lives. How can they not be on the same page as each other in the space of a couple of hours?
We want to apologise to all of the customers who have recently purchased tickets since we announced our reopening. We're sorry and we will be in touch today at some point with an official announcement and what will happen with your tickets
Please bear with us. We will come back bigger and better than ever
If you want to support us during this terrible time please subscribe to our new on demand channel where you can watch tons of exclusive full length shows and we'll be live streaming every single show once we reopen. Subscribe here https://watch.hotwatercomedy.co.uk."
The Frog And Bucket in Manchester, which has also has to postpone a Saturday night show said: "This is a huge blow to the club and the Industry as a whole. We've put a considerable amount of time and investment gearing up to re-open again but we have to respect the decision. The Show Will Go On. The Frog will return bigger and better."
Machester-based Mick Ferry summed up the feelings of a lot of stand-ups when he tweeted: "I thought there was a bit of light at the end of the tunnel. I had a few gigs booked in over the next two weeks. The first work I would have had since March. Paid some bills etc. I'm devastated."
Rob Mullholland tweeted: "I'm heartbroken for everyone in comedy. We've spent the last few weeks working to guidelines, buying new equipment and jumping through hoops only for the plug to be pulled with 24 hours before opening. The amount of money already struggling businesses have spent. Devastating."