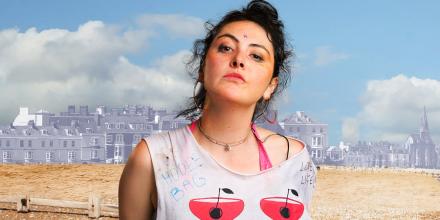 Emma Sidi's short, titled Last Resort, is set in Corfu where twentysomethings Alex (Sidi) and Becca (Kath Hughes) have gone to relive their hedonistic party animal youth. They've got the booze, they've got the old "Hoe Bags" T-shirts, what could possibly go wrong? Well, happily settled Becca just wants to chill by the pool for starters, while Alex wants to rave all night to get over a recent split.
Except that as we all know, you can't go back. As we watch the clock flash up on the screen between scenes things go from bad to worse. It doesn't matter how much Alex drinks or how many foam parties she goes to, she doesn't seem to be having much fun.
While it looks like it is going to end badly there are a few twists and turns along the way, with tears and laughter as the boozy post-break up holiday turns out to be one major hangover. A full-on performance from Sidi makes this one summer holiday to remember even though the people on it would like to forget it.
Now available on demand on Sky and Now and to be broadcast on Sky Arts in July.
Review: Morgana Robinson's Summer.
Review: Jocelyn Jee Esien's Summer.
Review: Andrew Flintoff's Summer.