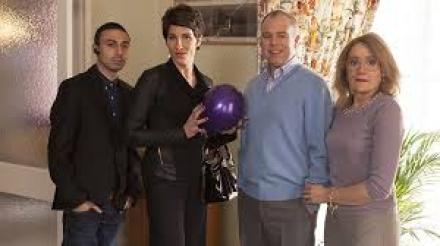 Every delicious box of luxury chocolates has to have a dud in it that is left in the bottom layer after all the favourites have been snapped up. In the case of the brilliantly tasty Inside No. 9 it is this week's instalment, The Last Gasp. While certainly not unwatchable it does not quite sustain the impeccable more-ish standard set by the first three episodes.
Steve Pemberton and Sophie Thompson play Graham and Jan, an ultra normal suburban couple in an ultra normal suburban semi. We join the action to see their young daughter Tamsin, who is seriously ill, getting a Jim'll Fix It-style visit from Jan's pop star hero Frankie J Parsons (David Bedella), organised by charity worker Sally (Tamsin Greig). Reece Shearsmoth co-wrote it, but gets a performing week off.
When Frankie pegs out while blowing up a balloon things take a turn for the nasty. Could his dying breaths be worth the equivalent of a rollover win if sold on ebay? And if they are an instant collector's item who has the rights to them? The parents? The charity? Frankie's minder Si (Adam Deacon – so good recently in Babylon) ? A squabble promptly ensues over ownership of the oxygen and we soon see the lengths ordinary people will go to in extraordinary situations.
The Last Gasp is by no means bad. It just does not match up to the series' previous high benchmark. There's a nice if not very subtle critique of the value of modern celebrity combined with a flicker of Chaucer's Pardoner's Tale going on here. But in the thirty-minute slot it doesn't really go anywhere and it resolves itself a little too simplistically. Not horror, not thriller, just a gently disturbing delve into suburban lives thrown briefly off-kilter that leaves the viewer feeling a little deflated.
Inside No 9, Wednesdays, 10pm, BBC2
PS. You can buy Steve Pemberton's breath for charity here. I don't think it's his last one though.