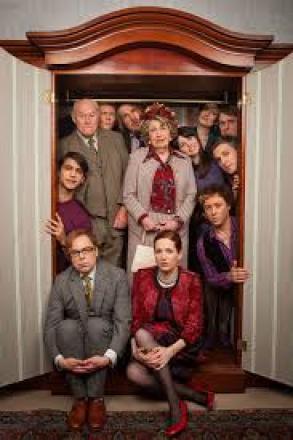 For those that were sorry to see the end of the brilliant Psychoville after two series the good news is that Inside No 9 is possibly even better. Certainly just as horribly funny in places. The BBC is clearly behind Reece Shearsmith and Steve Pemberton's new six-part series of self-contained stories, airing plenty of trailers to tantalise the viewer. And it definitely starts off in style with a chilling, claustrophobic chamber piece entitled Sardines.
The cast alone is almost recommendation enough. As well as the two writers playing bickering lovers, Katherine Parkinson, Tim Key, Julian Rhind-Tutt, Anna Chancellor, Luke Pasqualino and Timothy West are among the stars who find themselves squeezing into an increasingly crowded bedroom wardrobe during a posh country house engagement party parlous game. 
Of course things are not what they seem and to reveal too much would poop all over the plot. Let's just say that various threads are seeded early on which eventually come to fruition. While things start off on the comic side there is very quickly an uneasy chill running through the spine of the story. Something is clearly very amiss, but one has to stick around to find to what. 
The script is tightly written without a line wasted. And despite the undertow of impending nastiness there are plenty of gags. Shearsmith is smutty and camp, Anne Reid, who plays the family's former nanny is dubbed "Feed the Birds" because of her Mary Poppins hat. And Katherine Parkinson is terrific as the stressed, tight-lipped fiancee putting on a brave face but wondering about the omens for her impending nuptials.
Any more detail would ruin your enjoyment. Let's just say that this is as magnificently macabre as anything Shearsmith and Pemberton have done and it bodes very well for the rest of the series which also features, among others, Gemma Arterton, Helen McCrory and someone who should be perfectly suited to this kind of hellish humour, Julia Davis. Just watch and keep watching. And be prepared to go to bed with the light on. After checking inside your wardrobe a few times.
Read our interview with Shearsmith & Pemberton here.