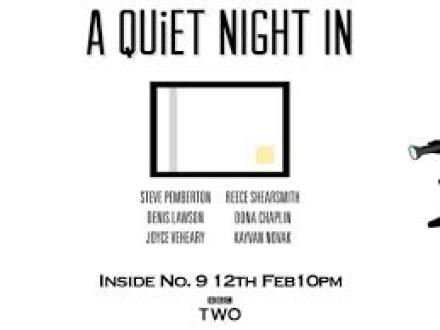 When I interviewed Steve Pemberton and Reece Shearsmith about their new anthology series Inside No. 9, Steve Pemberton suggested that there might have been concerns among the BBC's upper echelons that there was no continuing character, nobody to get your teeth into and come back to week after week. Well, having seen two episodes now, it doesn't matter – their tales-of-the-unexpected concept is clearly the thing to get your teeth into and make you come back week after week. 
This week's episode, A Quiet Night In, is a sudden comedic gear change after last week's Sardines. Where that had a malevolent sting constantly throbbing away in the background like a bassline, this foregrounds the laughs while never ever forgetting to be nasty too, with Pemberton and Shearsmith as Ray and Eddie, a pair of bungling burglars who break into a fancy modernist house but get more than they bargain for.
Oh, did I mention that there is no dialogue in the episode? Hence the multiple meanings of the title. Denis Lawson and Oona Chaplin brilliantly play the speechless couple who go about their business while the black-clad bandits prowl, hide behind sofas or nip up and down the stairs. Music and sound effects create a mood that is in turns childishly comic and nail-bitingly threatening. 
The humour is a kind of sadistic slapstick, with various injuries and accidents along the way as well as a few surprises. While this clearly owes a debt to the familiar knockabout tropes of silent comedy – and, apparently, children's programme Brum, according to our interview – S & P always find a way of pulling the rug from under the viewer and taking things in an unlikely, disturbing direction.
And there is certainly plenty of perverse rug-pulling here. Mostly in original ways, once in a way that is a little bit Farrelly Brothers but still very much in keeping with S & P's house style for humour with a vicious kick. If the idea of silent comedy puts you off, think again. This is probably as close in tone to Ben Wheatley's Kill List or Sightseers as it is to Buster Keaton's wordless clowning. Genius. Oh, and a genuinely unexpected twist in the tale from Kayvan Novak at the end.