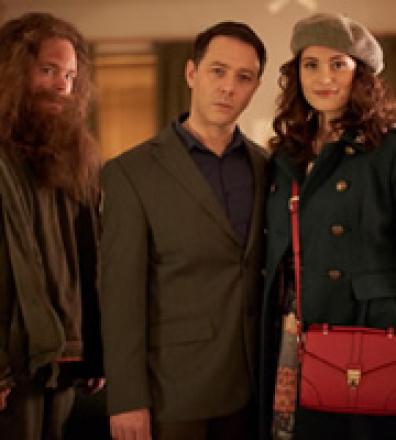 After two distinctive episodes which had plenty of laughs alongside the shivers, the third instalment of Inside No. 9, Tom & Gerri, tiptoes into taut psychological thriller territory, with very few giggles indeed, but an end that may haunt you for days.
Reece Shearsmith plays schoolteacher and aspiring Bukowskiesque novelist Tom and Gemma Arterton plays his girlfriend Gerri. I don't think the names are a reference to Tom and Jerry in The Good Life as the life here is anything but good. He hates his job and the endless homework marking, she is scraping a living acting in small bit parts, not doing much better than if she was working for the League of Gentleman's Legz Akimbo company.
Their names may, however, be a subtle reference to the old non-human cartoon characters. There is definitely a hint of cat and mouse when Tom lets a local tramp called Migg (Steve Pemberton) into his flat and subsequently into his life, much to the chagrin of Gerri.
This is the obligatory point in the preview where the synopsis has to end otherwise the text will be peppered with spoilers. Needless to say as the drama spools out you can play your own what-happens-next guessing game. While some of the twists are predictable, others catch you completely unaware. The sparse dialogue has no fat on it, it simply moves things from scene to scene in beautifully economical style. 
Shearsmith is great as the boyfriend whose life starts to spiral out of control, but this is really Pemberton's show. His bedraggled, homeless character starts out sympathetic, but soon takes a subtle shift towards the sinister.
As I said, not a lot in the way of laughs here, but that does not really matter. In fact the switch of tone after the slapstick violence of last week's A Quiet Night In makes a refreshing change. You'll be totally immersed from start to finish. 
Inside No. 9: Wednesdays, BBC2.