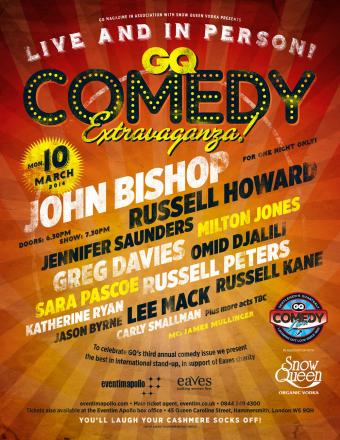 GQ has a long-standing reputation for being a stylish fashion magazine, but it is also building up a reputation for stylish comedy. Thanks to the contacts book and charm of its comedy editor, stand-up James Mullinger, it has put together a number of striking special editions featuring the world's greatest clowns and comedy actors from Jerry Seinfeld to Paul Rudd and Ricky Gervais. This year they went one stage further with a formidable comedy gig, which worked absolutely brilliantly. Until the headline act came on…
But more of the horrible come-down in a moment. After compere James Mullinger's chatty, slightly McIntyre-ish warm-up  the first act was Jason 'don't mention Father Figure' Byrne. The red-headed Irishman was a brilliant freewheeling live comic before his sitcom flop and he has not lost the gift of the gab. He didn't really have an act but there were so many latecomers walking in they gave him more than enough material to fill his slot. The highlight came when he grabbed a young man's bag of chocolate eclairs and perfectly replicated the irritation of hearing sweet wrappers being opened in the cinema. 
Byrne is a high energy tough act to follow but Russell Kane was on excellent form too, prancing around the big stage, talking about the difference between people who sleep easily and those that can't nod off. He even got a bit political, touching on UKIP and the recent remark that the floods may have been a punishment from God for gay marriage. If that's the case, Kane wondered, maybe they should drop Elton John on the dry bits of Africa. 
Omid Djalili was up next. Like most of the acts his short spot was a mix of old material that he knew would work and new material that he was possibly bedding in for his next tour. There was a bemusing section where he asked the audience to make ten seconds of noise to remember Nelson Mandela – it was hard to know whether this was a gag, a serious tribute or a way of filling time. He also got the crowd to sing along to his forthcoming England World Cup single – most people probably thought this was an elaborate gag, but it has been reported that Djalili really is doing the team's World Cup song. 
The first of three women on the bill – I presume there was no bumping of lady acts here, though the billed Jennifer Saunders did not appear (unless she introduced James Mullinger before I got to my seat) – was Katherine Ryan, who really has come good in recent months. She also did a mix of new material and riffs that have had a good run on her TV slots. Her killer routine on Beyoncé's sex face is on the cusp of becoming a stand-up "man drawer" classic. Clever feminist comedy with a small f and a promise of big things in her future.
The closing act of the first section was John Bishop, who could and should have been the final act of the night, but perhaps he chose to go on earlier because he only returned from Australia on Saturday and maybe wanted to get to bed before the jet lag really kicked in. Bishop is so confident, relaxed and loved that even in his semi-dozy state he had the crowd in hysterics with a few choice anecdotes from his recent sojourn down under.  It really was just like hearing a bloke talking about his holidays in the pub, but Bishop has the storytelling skills to pull it off. If only he had closed the show…
Click on 'next' below on the right to read on. You know you want to...