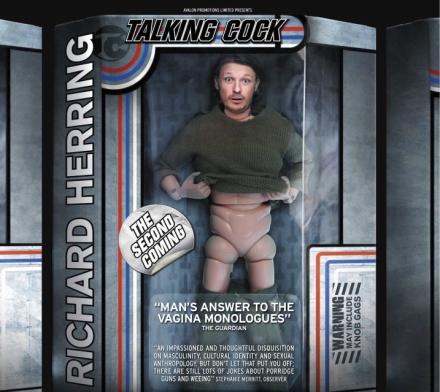 I was a little worried when I heard that Harry Hill was going back on the road after eight years away. Would it be a case of a deluded boxer returning to the ring thinking he could still cut it? Would it be like Bjorn Borg making his comeback with an old wooden tennis racquet? I didn't need to worry. I saw Hill's Sausage Time spectacular – and spectacular is the only word for it – on its first night in London a few weeks ago and, if anything, the lunacy was sharper than ever.
The former GP has always walked a thin line between old school variety and performance art post-modernism and in Sausage Time that mash-up was stronger than ever, with live band, end-of-the-pier gags and Max Wall-style silly walks colliding with surrealist antics and reworkings of Beyonce's greatest hits. Props to the props department too, for a number of major surprises which I won't spoil. Hill is currently touring the UK and back at the Hammersmith Apollo for a second bite this Thursday. Just what the doctor ordered, details here.
Comedy shows used to be like the mayflies of the stage. Unless they were recorded for posterity they would often be developed for the Edinburgh Fringe then, if they were lucky, toured before they were forgotten about. These days even if a show does not come out on DVD there are usually a few clips knocking about on YouTube, but after a life expectancy of about a year there is still rarely a chance to see the show onstage again.
A performer who is an exception to this rule is Richard Herring, who is one of the few comedians to have dusted down past scripts and revived old shows. He did this with his irreverent piece on religion, Christ on a Bike and he did it again in Edinburgh last year with Talking Cock, his pun-worthy dissection of the male member in popular culture. Some might say a revival is a sign of creative bankruptcy, but not here, with the smutty knob gags rubbing shoulders with well-researched sociological asides.
Herring has good reason for bringing these pieces back to life. It is a chance to revise them and put them in a fresh context and also a chance for new fans to see a show onstage that they may only have previously read about. Another reason is that Herring is a better performer now than he was a decade ago. More confident, sharper at stagecraft and less afraid to take risks, so it might actually be a better show. He performs it at the Bloomsbury Theatre this Friday and Saturday. Full tour dates here. You would be a dick to miss it.
817,242 Twitter followers can't be wrong can they? Well, maybe, but not in the case of US comedian Rob Delaney, whose career was ticking over nicely and then he got a major boost from the social media site, which was the perfect vehicle for his pithy one-liners. Onstage Delaney has a clever, dark wit and is usually the butt of his own stories, recalling, for example, his problems with women, the comic consequences of a nasty car crash and his bed-wetting issues.
The Soho Theatre has a terrific track record when it comes to brining over sharp-tongued Americans. They've got Paul F Tompkins there at the moment and last year Delaney sold out the Soho Theatre and is back in London this Saturday at the O2 Shepherds Bush Empire. The only problem? He's a bit too good-looking to be a comedian. I like my stand-ups to resemble trolls rather than male models, but let's not hold that against him. I suppose I'll just have to close my eyes and enjoy the exquisitely crafted gags. Delaney is also appearing here on Wednesday night alongside Brian Gittins, Cardinal Burns and Daniel Simonsen – a line-up worth the ticket price even if Delaney sends a blow-up doll version of himself.