By Bruce Dessau on
9/4/2013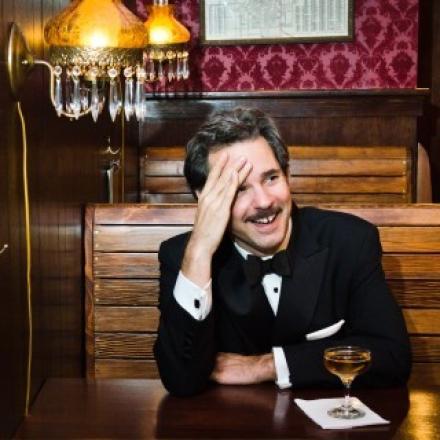 I try not not to do too much research on acts I'm reviewing for the first time so that I can judge them without any baggage getting in the way. When I reviewed Paul F Tompkins for the Evening Standard – original review here – I compared his dapper, moustachioed look to Anchorman Ron Burgundy. Afterwards I found out that Tompkins appeared in Anchorman, so the look may have rubbed off on him.
There is also a bit of Dave Allen in the well-groomed, relaxed, observational storytelling, though I doubt if Tompkins, who was born in Philadelphia and is now based in Los Angeles, has ever heard of one of the BBC regulars of the pre-alt comedy era. Maybe their tailors know each other though. 
American storyteller Paul F Tompkins is a notch above your typical stand-up in the sartorial department, sporting a bespoke suit set off by a silver chain dangling from his waistcoat. Imagine Anchorman's Ron Burgundy with added Southern Gent panache.
In terms of comedy inspiration, however, Tompkins, whose podcast topped Rolling Stone's Best Podcast list, is more off-the-peg. His UK debut, Crying and Driving, deals largely with the familiar terrain of marriage and children. Plus amputated body parts, magicians' clubs and, as the title suggests, cars.
Yet while Tompkins might be treading well-trodden ground, he does approach it with an engagingly offbeat sensibility. Bitching about one's friends is called "lighting the gossip lamp", while he explains his lack of motoring skills by saying "I like being dependent on other people just for motion."
His tales are a nice hybrid of Bob Newhart's everyman neurosis combined with Seinfeldesque observations. Highlights include nervously proposing to his girlfriend and the aforementioned yarn about a Carolina doctor's encounter with a frozen limb, a brilliant introductory footnote to Tompkins' quirky view.
He certainly gets plenty of mileage out of belatedly taking his driving test at 41, recalling how the examiner asked if a parent had brought him. Tompkins has no problems with his comedic licence, though. This is efficient entertainment as clean-cut as his appearance. No swearing, no smut, just smart humour to accompany that smart suit.