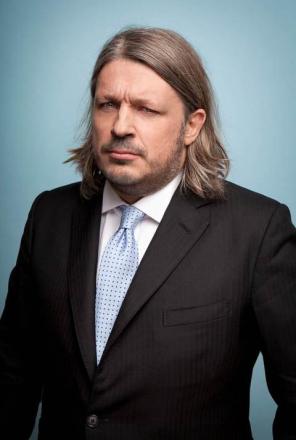 Even by Richard Herring's prolific standards he is busy at the moment. He is about to post his 4000th blog on his website, he is intermittently touring his latest Edinburgh show, reviewed here, and on Nov 17 at the Leicester Square Theatre he embarks on his latest online venture. Richard Herring's Meaning Of Life – I'm sure I've heard a title a bit like that somewhere before, but can't quite place it – will be a monthly stand-up-based programme that he will be filming and distributing himself, avoiding traditional TV broadcasters. 
As the title suggests the themes will be big, such as is there a God and why are we here?  "You don't get that with Paddy McGuinness," says Herring. Although if I found myself at a Paddy McGuinness gig I probably would ask why I was here. Each show will include an interview with an expert, who may be able to shed some light on the thorny subject in question. The first guest will be physicist Marcus Chown and they will be chatting about the science of creation and trying to establish how the universe started – assuming, that is, that there is no God.
The show, which will be recorded once a month with a break for Christmas, is Herring's latest way of bypassing television's tortuous commissioning process. Anyone who has read his blog over the last decade-and-a-bit will have seen Herring's stressful time with more conventional projects. Like many writers he has frequently found himself in development hell. As with his recent high-profile Leicester Square podcasts in which he has interviewed the likes of Stephen Fry (breaking the attempted suicide story), Russell Brand and Miranda Hart this is a way of doing it independently.
Herring aims to show that the technology is there to go ahead and make programmes yourself without censorship, interference or the budget being blown by the producer on dinner at a swanky restaurant. "In this way the public can become commissioners, voting with their wallets. And all without the rigmarole, focus groups and jumping through hoops that comes with trying to get a project on to TV." It is not entirely the first time this has been done. Robert Llewellyn, for instance, has done a similar online thing with Carpool, but maybe this is the first time it has been done with a stand-up element.
The big question of course, is not whether a deity exists, but whether there is a way of making money out of these programmes. Herring has budgeted £20,000 for the series and tickets for the live version will be £10 each, but he has not confirmed yet what he will charge for viewers to watch the programme. He is also considering sponsorship but would rather remain independent. At the moment he thinks that there may be a free version available and also a director's cut extended version which people can pay for. There is also the possibility of selling a DVD compilation at the end of the run. 
"It's an exciting opportunity to experiment with what is possible in this new medium," adds Herring.  "Having already successfully competed with BBC radio comedy shows and won a Sony award for my Leicester Square Theatre Podcast I am keen to see if I can produce something which will stand up against TV comedy shows at a fraction of the budget."