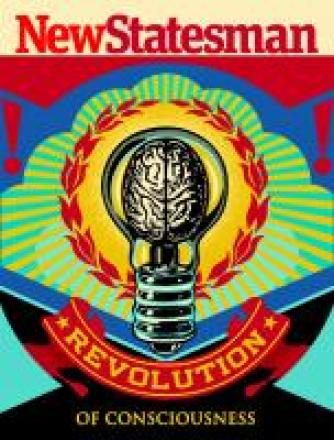 It's been business as usual for Russell Brand in the last few weeks. A kerfuffle on Newsnight where Jeremy Paxman called the guest editor of The New Statesman "trivial" and had a go at him for telling people not to vote has been followed by a rant from Quentin Letts in the Mail putting the boot into him. As someone said on Twitter, Brand must be doing something right if the Mail has decided to take a pop at him. he is now in the middle of his Messiah Complex tour, which I saw on the opening night in Birmingham last month. You can see my original review here or read it below. The show is the usual mix of lanky self-deprecation and sexual jibber-jabber with a big garnish of politics and philosophy, taking down corporate advertising and the imperfections of icons along the way. Yes we know the randy revolutionary has reportedly just bought a house in Hollywood when he could have fed thousands with his money, but, heck, nobody is perfect. And as he says, getting in his retaliation first, at least he is aware of some hypocrisy. He certainly gets my vote. Except that he has told us not to vote...
This show is both sophisticated and simplistic. "I'm aware of some hypocrisy," he grinned, as he condemned the worship of celebrity, which for him was akin to falling into "a tumble dryer full of tits and money." His take-down of corporate culture by dissecting their adverts was semantically insightful, yet what exactly did he mean by "an immigrant is just someone who used to be somewhere else"?
He was on firmer philosophical footing quoting Nietzsche and Einstein. Few comedians can drop such grand names, even fewer can talk about standing naked on a police van at an anti-capitalist rally waving their pants. Frustratingly there was no clip of this on the screen above him, though footage of Brand staring demonically on Newsnight was almost as comical.
This is not his funniest work, yet Brand remains unique. There were some preachy passages and occasionally he had to rely on his volcanic charisma to hold everyone's attention. However when he was good he was extremely good. And even when he was a tiny bit pompous he was still more interesting than most of his comedy contemporaries.
Russell Brand has recently added further dates to his tour including more shows in London. Details here.