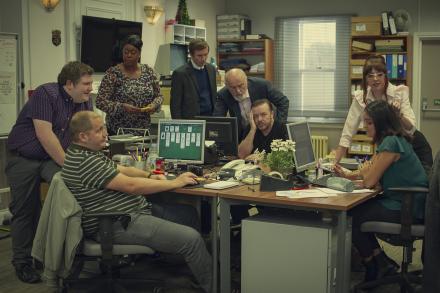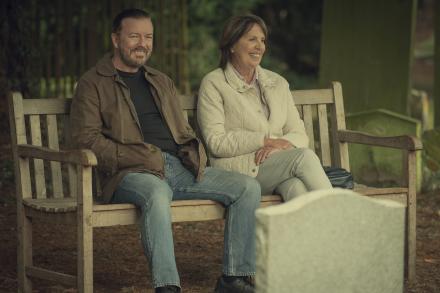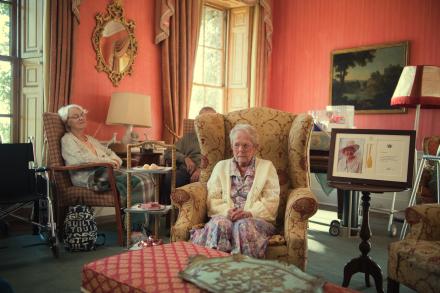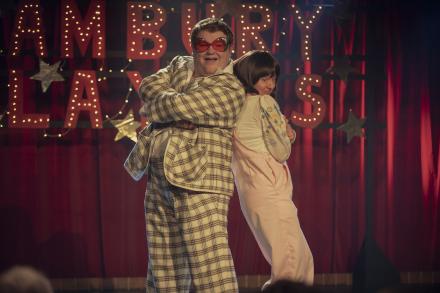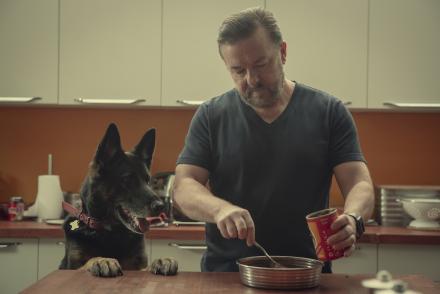 The new series of After Life comes to Netflix on Friday, April 24 and must be one of the most eagerly anticipated programmes of 2020. Beyond The Joke will be running a full review of each and every episode once the programme is out, but we have already seen it and, well, let's just say, you won't want to miss a second.
Just to tease you while you wait here are some stills from the forthcoming series, which sees the return of many of your favourite characters and also the introduction of some new ones. Warning - After Life will make you laugh, it will make you cry and there is also a fair bit of swearing. Particularly in the opening episode….
The show seems to be nodding – consciously or unconsciously – to classic BBC sitcoms of the past. Penelope Wilton, best known to older comedy fans as one of the stars of Ever Decreasing Circles, is back for more graveyard chats with Ricky Gervais's character, local newspaper reporter Tony, who is still trying to get over the loss of his wife Lisa. 
We also meet a new character, Paul, the owner of the Tambury Gazette, who is played by fellow Ever Decreasing Circles star, Peter Egan. Gervais and Egan are already friends - like Gervais Egan is a big animal welfare campaigner - Egan the Vegan. He is pictured in the top picture with the Tambury Gazette team played by Gervais, Tony Paul Way, Tom Basden, Ethan Lawrence, Mandeep Dhillon, Diane Morgan and Michelle Greenidge.
Another star of a classic sitcom also appears in the new series. Annette Crosbie played Victor Meldrew's wife in One Foot In The Grave for a decade. Here she plays a grumpy 100-year-old woman that reporter Tony interviews. Crosbie is actually only 86, which probably explains why her centenarian is so spritely. 
Elsewhere Ethan Lawrence and Jo Hartley return as a local mother and son with a rather unconventional relationship. In one unforgettably wince-inducing set-piece they perform the creepiest version of Elton John and Kiki Dee's Don't Go Breaking My Heart you'll ever hear. 
And needless to say Kerry Godliman is back as Tony's late wife Lisa. And Tony's dog Brandy is back, played by German Shepherd Anti, who pretty much steals every scene they pop up in.
More pictures here of David Earl as Brian, Joe Wilkinson as Pat, Roisin Conaty, Ashley Jensen, Paul Kaye, Tracy-Ann Oberman and David Bradley as Tony's father. Also in the series is Colin Hoult.
After Life Season 2 will be available on Netflix from Friday, April 24, 8am. 
Pictures: Netflix