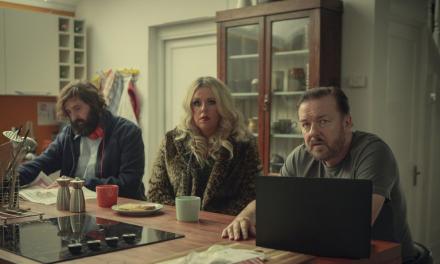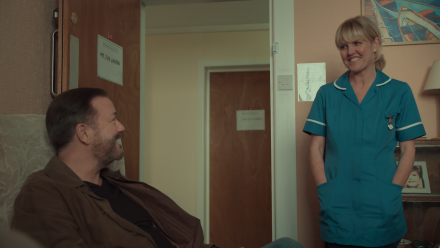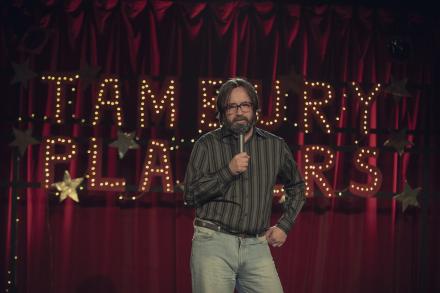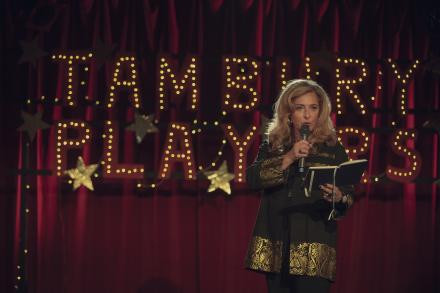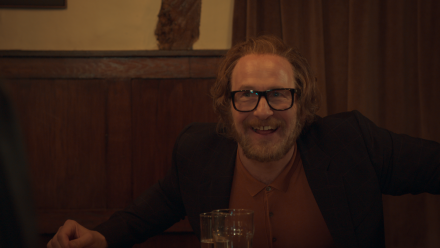 Here are more pictures from the second season of After Life, which comes to Netflix on Friday, April 24 at 8am. 
In the top picture Tony (Ricky Gervais) is pictured with local sex worker Roxy (Roisin Conaty) and postman Pat (Joe Wilkinson). At one point Tony sets Roxy and Pat up on a date, but you'll have to watch the programme to find out how it goes. 
And is romance afoot for Tony and Care Home nurse Emma? They clearly have a strong platonic bond, but does Tony feel ready to take things further?
Stand-up fans may recognise David Earl as so-bad-he's-hilarious comedian Brian Gittins, who has appeared regularly on the circuit. Earl's character here is also called Brian Gittins and in one scene does a stand-up gig. Let's just says say it does not go as planned. And Tracy-Ann Oberman also turns up at the same show to read some feminist potery. 
Tony (Gervais) is still caring for his elderly father Ray, whose dementia means that he sometimes doesn't recognise Tony and thinks he is his brother, not his son. It's as touching and honest a portrayal of old age as you'll see.  
And finally Paul Kaye pitches up again as a boozy psychiatrist who is so unreconstructed he makes The Office's Finchy seem as saintly as the Dalai Lama. 
More new pictures of the cast here.
After Life comes to Netflix on Friday, April 24 at 8am.
Pictures: Netflix