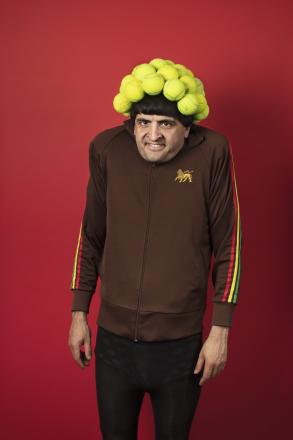 Update December 2017. Spencer Jones is doing this show at the Soho Theatre until January 6, 2018. Buy tickets here.

Update 23/8/17: Spencer Jones has been nominated for a lastminute.com Edinburgh Comedy Award for Best Show. See nominees here.
The public probably doesn't give a toss as long as the show is funny but one of the things critics look for when reviewing acts is progress. It is great to see an act evolve. If nothing else it gives us something new to write about.
I could be wrong about this, but it feels as if Spencer Jones has changed this year. After his prop-based breakthrough show two years ago it seemed a little as if he was treading water last year. Albeit very funny, silly water. 
This year, in The Audition, he has upped his game. I suspect he is talking more this time around. He even looks more normal, with longer hair and a white coat. It was only at the end that I spotted his usual clownish white tights underneath. 
The narrative – and I think there has always been a narrative lurking somewhere in his shows – is clearer. It involves – well, it partly involves, Jones going up for an acting role for Steven Spielberg. It also, however, involves the hilarious use of a vibrating board/plate, which may be a first for the Edinburgh Fringe. There are also some inspired visual gags involving tennis balls. Jones explains how he accidentally bought a few hundred too many online. As you do. 
Along the way, of course, there are plenty more visual gags and set-pieces. The shadow of Tommy Cooper and Mr Bean loom large but there are also hints of Ricky Gervais in his look and manner. Is this because Jones plays a Gervaisian character in the sitcom Upstart Crow or did he land the part because he already had those mannerisms? It is hard to say.
In fact there are a few things that keep us guessing here. His mixing desk has a riff to play saying "something's gone wrong" whenever there is a cock-up but it is difficult to spot the difference between intentional gaffs and unintentional bloopers.  
Add in some catchy keyboard tunes, a chat with his young son which may or may not be imaginary and plenty more surprises and you've got a show that gives the funny bone a firm whack. Whether he has evolved enough to pick up a lastminute.com Edinburgh Comedy Award nomination next week is up to the panel, but if awards were given out for infectious laughter Jones would be a winner every time. 
Spencer Jones: The Audition is at The Hive @ Monkey Barrel until August 27. Tickets here.
****
Picture by Jill Wooster