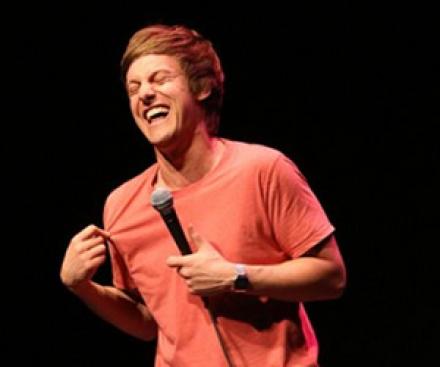 It was pretty much par for the course that the first gag I heard on arrival at this year's Latitude 2017 was Chris Ramsey talking about his fear of having to wipe baby pooh off the TV remote. And of course it got a big laugh. Latitude is more family-orientated than any other festival and there were plenty of young parents with small kids in tow in the comedy tent who laughed along to Ramsey's relatable riffs about being a stressed out dad. 
It's a timeless theme. I'm so old I can remember Jack Dee doing gags about his children stuffing sandwiches into the VHS recorder, There isn't quite an equivalent for Google Chromecast, but if there was Ramsey would have probably come up with it. While his material can be generic at times, he does have an ear for a good story. And he delivers his material brilliantly well, moving around the stage and acting out aspects of each gag. 
Like, say, John Bishop, he is an everyman who people immediately warm to, even when he calls them, with some justification here – "privileged middle class twats". I don't know how much time he spends with his children but he certainly gets his money's worth out of them material-wise. There are stories of his youngest running around high on Red Bull ice lollies dipped in coffee, stories of them sleepwalking and stories of him having to cook his toddler full Sunday dinners to placate them – and not necessarily at Sunday lunchtime.
Elsewhere rising star Ramsey - who has an imminent Comedy Central series coming up – regaled the crowd with his most celebrated anecdote to date, about being wrongly arrested for a hate crime in a London hotel. It is a true story of mistaken identity and Ramsey squeezed every laugh out of it, from wondering if the police were Ant & Dec in prosthetics to being relieved they hadn't burst into his hotel room ten minutes later when it could have been even more embarrassing than just finding him wandering around in his pants.
The hotel room story makes you think that Ramsey is lucky to have exciting incidents happen to him to make jokes about. But he is the kind of comic who simply has the gift of the gab and can find the funny anywhere. OK, he's no Daniel Kitson and he is not reinventing the wheel, but he can put a smile on the most gloomy curmudgeon's face. And while it is easy to write him off as a Frankenstein's hybrid of Russell Howard and Jason Manford among others that spring to mind, he undoubtedly does the job. 
Brennan Reece Latitude Review.
Reginald D Hunter Latitude Review.
Read more Latitude reviews here.