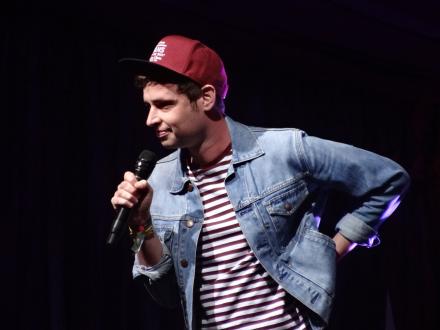 I've seen Brennan Reece four or five times now and I'm still not sure if he is gay or straight. He is certainly camp but not overtly so. Although maybe the waspish aside that he likes putting willies in his mouth is a bit of a clue. Or maybe not. 
His sexuality doesn't really matter though. What does matter is that the Mancunian comic is clearly a comedian on the rise. He picked up an Edinburgh Comedy Award Best Newcomer nomination last year and his set here, combined the most winning bits of that hour with some newer gags that may well crop up in this year's keenly anticipated sequel.
The running gag is that Reece does not feel very masculine in a masculine world. This is highlighted by his neatly observed routine about joining a gym and being inducted by a typical man's man. Why do men with shaved heads always seem to have double chins on their neck? he asked. Maybe he should compare notes with Russell Kane, who has also observed this "triple ripple" effect.
Reece has a great way with words. There is a little bit of Alan Bennett and Victoria Wood in his quirky references but he is also good at wordplay, describing the aforementioned testosterone-fuelled trainer as a "noneckahedron". Occasionally his malapropisms didn't quite land. At one point he wondered if his trainer had been "injecting stereotypes". I think a better line might have been "injecting asteroids" or "injecting androids". But what do I know?
Elsewhere he sang the praises of women who can keep everything in the bra and have orgasms that last for days and re-told the endearing story from his award-nominated set about going to a magic show where he was the only member of the audience. There was also a brief bit about granny porn and nostalgia for narrowband smut - it seems as if you have to have a bit about pornography in your set by law these days – and an excellent anecdote about being a blood donor. 
I'm still no clearer about Reece's sexuality, but we are clearly going to be seeing a lot more of him so we should all have a chance to make up our own minds soon.
Reginald D Hunter Latitude Review.
Read more Latitude 2017 reviews here.