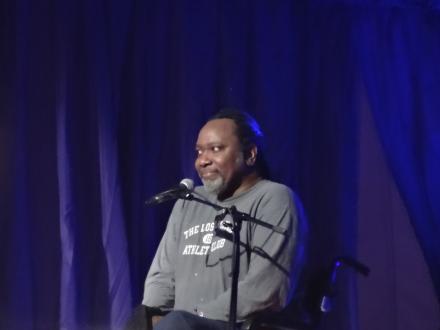 The second day of comedy at Latitude was headlined by Reginald D Hunter. A month ago he broke his leg and since then he has been performing in a wheelchair. "I celebrated 20 years of being in England by breaking my ass," he quipped. Sit-down comedy doesn't seem to be holding him back though. He was as funny and thoughtful ever. Although if that really was vodka he was drinking I hope he was not breathalysed after he wheeled himself offstage.
Funny and thoughtful yes, but maybe not as provocative as the old Hunter. He finally seems to be more relaxed and less tortured or troubled. Towards the end of his set he mentioned that his agent had suggested he lighten up and maybe he has taken her remarks to heart. There was more playfulness here than usual as he shot the breeze. Talking of which, he explained why he prefers living here rather than in the USA: "British racists don't shoot you."
The subject matter was still as serious as ever though. There was plenty about race, but his ideas seemed more accessible and less controversial than in past shows. A staanecdoteancdote was about his dealings with the publishing world, which is clearly still rather posh and old school, ie white. Yet at a party he hit it off with an unlikely ally and they nipped outside for a smoke and a drink. 
Elsewhere he delivered the obligatory grovelling apology for Trump ("they voted a turd into the White House") and offered his views on British drinking habits: "You drink the way Americans eat." There was some strong personal material about his family and his testy relationship with his father and he also revealed his unique way of getting intellectually match fit for his live shows - he argues with racists on Twitter. 
Occasional lines, such as a reference to Les Dawson during his thoughts on Bill Cosby, didn't quite fly, but overall this was Hunter on excellent form. And judging from the smiles he was enjoying himself. Maybe he should stay in the wheelchair even after he has recovered. Nothing lame here.
Brennan Reece Latitude Review.
Read more Latitude 2017 reviews here.