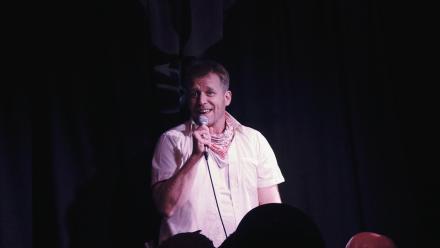 Every now and again I receive Facebook comments from circuit comedians telling me that I spend all my time swanning in and out of the Soho Theatre and the Eventim Apollo and don't experience what it is like at the pub-based comedy club grass roots level. Well last night I did go to a comedy club in a pub, but to be perfectly honest the acts were so good and the atmosphere so conducive to comedy that I suspect I still don't know what it is like at the coal face. Good sight lines, good air-conditioning, good audience, good acts. If only all comedy clubs were like this. 
You can read more about the new Angel Comedy Club and what they've got coming up here. Before the official opening they have already staged some memorable gigs. Russell Howard and John Bishop have pitched up to try out new material in this 80-seat room. There was nobody of quite that calibre last night, but the line-up was as strong – if not stronger – than any line-up you will find in London this week.
First up was rising star Jamali Maddix. Thanks to traffic chaos I didn't catch the start of his set but the last part was pretty impressive. This wasn't really a night of political comedy but it was inevitable that current affairs would get a mention. Maddix suggested that England was in terminal decline and in denial about it - like a homeless man still wearing a suit. As he noted, there used to be a British Empire but then there also used to be a Greek Empire and look at Greece now…
Next up was London-based Japanese comic Yuriko Kotani. I've only ever seen Kotani in comedy competitions so this was an opportunity to see her under less pressure. It was a similar set, homing in on cultural differences – there is no Japanese equivalent of "-ish" because they are all so punctual, the Japanese all work way too hard – but it had more room to breathe, with new insights added into the mix and leaving the audience wanting more.
Final act of the first half was someone big enough to have been headlining (in fact he shot off after his set so I expect he was headlining somewhere else). I interviewed Nish Kumar in the summer when he was performing in Edinburgh and asked him if he would change his set for his autumn tour. He replied something like "No, nothing much is going to happen between now and then…" Yeah, right. He is now doing a bit of rewriting and this was a chance for him to roadtest some Trump material alongside his already brilliant Brexit material. He joked about playing gigs in America. I'd certainly like to see him do some of his new material there. Assuming they let him in.
After the break and some short films about the making of the club presented by compere, club co-creator, serial arm-waver and all-round hero Barry Ferns, the second half kicked off with a newly shorn Tony Law (pictured) sporting his latest look. 
Since his recent Leicester Square run Law has had a sensible haircut but that's the only sensible thing about him. His short set featured a confession that he has recently been eating ice cream in his car with a comb. Is that normal, he wondered. Normal for Law, I guess. He also read from a magazine in a posh voice in the hope that he might get some grown-up TV work. I'd certainly like to see more of Law on TV, but there is nothing grown-up about him. Which is what makes him so special.
Plebs star Tom Rosenthal bounded onstage next and said how much he loved the club. So much in fact that he had paid £100 to sponsor one of the chairs and he wanted to know who was sitting on him. He then proceeded to reveal his fondness for the latest Football Manager computer game, getting more worked up over a recent defeat than most real football managers. Rosenthal is one of those annoying performers who is as good an actor as he is a stand-up. I'd like to see more of him doing stand-up but I suspect he is going to be sucked into sitcom world for the next few years.
Finally Kiwi favourite Jarred Christmas closed the night with a hilarious set that included a no-holds-barred story about appearing in panto in Wimbledon with Priscilla Presley that was worth the price of a seat alone. Maybe not the £100 that Rosenthal paid for his seat, but certainly the usual entry fee. Which as it happens will usually be free (or v cheap). So get down to Angel Comedy. Who needs John Bishop and Russell Howard when you can have nights like this?