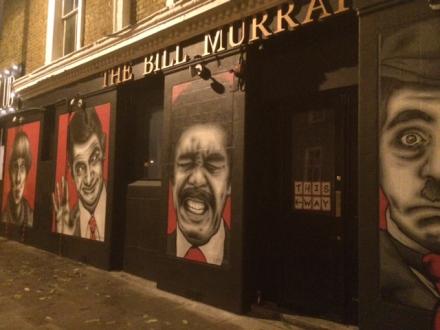 The Angel Comedy Club has opened its new permanent venue, taking over a pub in Islington. The pub, formerly the Mucky Pup but renamed The Bill Murray, is at 39 Queen's Head St, N1. The launch was marked with a night of comedy from Nish Kumar, Tony Law, Tom Rosenthal, Yuriko Kotani, Jamali Maddix and Jarred Christmas, hosted by Angel Comedy's resident MC Barry Ferns. Read a review here.
While the pub has officially been named after William Murray (first Earl of Dysart and childhood whipping boy of Charles I) whose biography is displayed in the venue, the Angel Comedy team have made attempts to contact the contemporary comedian/actor  Bill Murray explaining that their dream is to honour "someone important to us and who reflects the spirit of what we do." 
Angel Comedy will still be running free shows at the nearby Camden Head where it started in 2010. Having bought the lease on the pub the Angel Comedy team (Barry Ferns, Sarah Pearce, Dec Munro and Rachel Warnes) turned to kickstarter where 1049 fans contributed £46,643 to renovate The Mucky Pup. Now complete with stage, lighting and sound equipment, improved plumbing and working air conditioning – The Bill Murray will host live comedy shows as well as writing and performance courses.
Regular live comedy will include free Angel Comedy Pro Nights every Friday and Saturday, free Angel Comedy Gala Nights(TV headliner & other top pro acts), Alternative Comedy Memorial Society (Thom Tuck, John-Luke Roberts and guests), Green Milk (putting weirdos on stage for various amounts of time), Hysterical Women (cutting edge comedians that happen to be women), Crowley & Co's: The Night (variety showcase) and late night improv from Shoot from the Hip. The Bill Murray will also have an extensive programme of critically acclaimed solo shows (November includes Ben Target, John Hastings, Eleanor Morton & Paul Flannery's MMORPG Show) as well as exciting experimental works from the likes of Stuart Goldsmith and new formats such as Tony Law's Bingo Bongo.
All ticketed shows at The Bill Murray will have a limited number of free tickets available on the door but in a change from Angel's free policy there will also be tickets that can be paid for (priced around £5). Booking in advance is recommended to guarantee a seat. Angel Comedy will also continue to run free comedy seven nights a week at The Camden Head. See http://www.angelcomedy.co.uk/camden-head/ for listings.
Angel Comedy is now the official UK home of The Second City, the world's premier school of improv whose illustrious alumni include Bill Murray, Tina Fey, Amy Poehler, Steve Carrell and Mike Myers. This means that in 2017 Angel Comedy are offering a full annual programme of Second City courses: winter, spring and autumn terms. Tutors will fly over from The Second City to work exclusively at Angel Comedy, providing students with the same level of training as at any of their other centres. Full info, dates and prices at www.angelcomedy.co.uk/courses/second-city/ 
Other courses and workshops coming up at The Bill Murray are:
-          Build Your Own Show Through Characters with The Pajama Men (19th & 20th November – sold out)
-          "The Comedian's Studio" led by John Gordillo (7-10pm every Tuesday evening, £15)
-          MCing Course with Barry Ferns (Weekdays from 23rd November / weekends from 26th November - sold out)
-          Comedy Writing Course with sessions from Mock the Week & 8 Out of 10 Cats writers (Wednesday evenings for 5 weeks from 11th January 2017, £190)
-          Stand-up Beginner's Course (Thursday evening for 5 weeks from 12th January)
Picture © Bruce Dessau