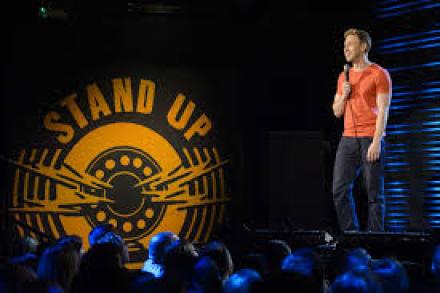 It's the innocuous opinion pieces that seem to get me into the most hot water. Last Friday I wrote about the fact that Comedy Central UK was making a stand-up series fronted by Russell Howard, Russell Howard's Stand Up Central, but was no longer making The Alternative Comedy Experience, the show curated by Stewart Lee. 
I expressed my opinion that I had preferred ACE to Howard's new show, which I thought sounded like a variant on the glossier, excitable BBC3 series Live at the Electric. I thought that was a reasonable view to hold, but somehow I seemed to anger comedy fans and comedians on both sides of the fence. 
What surprised me most was the love in the room that emerged during online comments for BBC3 series Russell Howard's Good News. It's a show that I watched and enjoyed over the years, but never had it down as must-see TV. Yet on Twitter people repeatedly popped up to suggest that it had done as much, if not more, to champion new comedians as the much cooler, more critically lauded ACE.
Comedian John Robins was quickly onto Twitter to point out that a number of acts on ACE had already been on RHGN. Richard Herring later added: "Russell Howard's other show [RHGN] put more new stand-ups on TV for significant length of set too." Dara O'Briain chipped in to fly the flag for Live at the Apollo, which may showcase different acts but "gives a lot of time to comics to do full routines than Alternative...ever did" (sic).
Some of the praise for RHGN came – perhaps not surprisingly – from Jason Dawson, who worked on the show, and Mark Iddon, who created/produced it.  Obviously they are going to stick up for RHGN but their case is worth noting.
Dawson, who is now the producer of Russell Howard's Stand Up Central, cited a number of acts who got big breaks on RHGN. According to Dawson Nick Helm did his first-ever stand up appearance on the show (I remember that and was suitably blown away). James Acaster made his TV debut on RHGN. Daniel Simonsen was on it six months before winning Best Newcomer in Edinburgh. Dawson is proud of championing Tony Law, Nina Conti and Doc Brown (who had been on TV before) and putting on Mae Martin, Elis James, Romesh Ranganathan, Seann Walsh, Henry Paker, Liam Williams, Lou Sanders, Joel Dommett and more for the first time.
While there were plenty of Avalon acts on RHGN (Stewart Lee's biggest issue is not about quality but about the quantity of Avalon-managed acts on Avalon-made productions) there are plenty of non-Avalon acts too. Mark Iddon tweeted that "A HUGE amount of passion for breaking new talent is what drove the RHGN stand-up agenda. We had 75 comics do stand-up on RHGN, 24 were Avalon. Rubbish at maths, so not sure the percentages!"
Iddon didn't want more credit, he just wants the same credit as ACE: "Equally important in the battle to break new & underexposed acts. And I believe, deserve equal credit for doing so!"
Others sang the praises of RHGN too. Promoter James Gill said that the "Stand-up slots on Russell Howard's Good News were the closest British TV got to Johnny Carson helping newer acts." Though he's probably not old enough to remember Bob Monkhouse's show in the 1980s which championed previously unseen-over-here US talent such as Steven Wright and Emo Phillips. If Monkhouse's show bridged the gap between Carson and RHGN, then ACE was like Ben Elton-era Friday Night Live/Saturday Live, which showcased Enfield, Fry, Laurie, Clary, Brand, giving airtime to a new generation of comics.
No show is perfect. Stewart Lee wanted acts for ACE that he couldn't get on the show. Others – Alfie Brown, Lou Sanders – were filmed but didn't make the cut (the unashamedly loopy Sanders did, incidentally make the RHGN cut). 
It's a debate that I guess will crop up in some form again when Russell Howard's Stand Up Central starts in late April. As a comedy fan I'm interested in all of these shows, though I reserve the right to like some more than others. I'm not going to boycott Russell Howard's Stand Up Central if I spot that the percentage of Avalon acts is higher than Stewart Lee thinks it should be. But if Jason Dawson wants to keep the ratio of Avalon acts on Russell Howard's new show down I've got a suggestion for him. He could invite Stewart Lee (who used to be with Avalon but isn't any more) on.