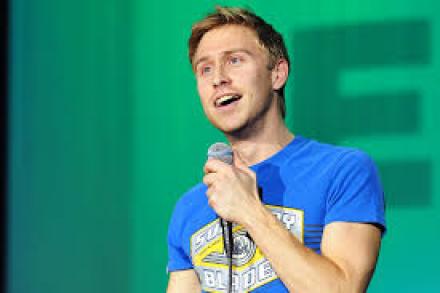 A couple of years ago I interviewed Stewart Lee in Comedy Central UK's offices off Oxford Street. He was promoting the Alternative Comedy Experience which was about to start and give airtime to comedians who didn't fit into the shiny floored Live at the Apollo template such as Josie Long and Simon Munnery.
Lee was delighted and slightly surprised that Comedy Central was prepared to put such a motley crew of D-I-Y comics – some even over 40 – on the telly. He pointed to a picture on the wall of a glossy Friends-style sitcom on the channel and suggested that that was the sort of thing they were more interested in. 
Well two years on it seems as if Lee was, as usual, right. He recently revealed that after two series on Comedy Central there would be no more new Alternative Comedy Experience. That was a bit of a blow. 
But what makes the blow even worse is that this week it was announced that a new stand-up series is starting on Comedy Central. Russell Howard's Stand Up Central will feature Howard* plus two stand-up guests per episode. It sounds ominously like a cross between Live at the Electric and Live at the Apollo.
As for the guests, it's a mixture of the mildly imaginative and the predictable. At least one – Katherine Ryan – has appeared on Live at the Apollo, whereas Lee's series saw it almost as a badge of honour that none of the acts had appeared on that show.
This all feels like an elaborate joke created just to wind Stewart Lee up. Or maybe some kind of unconscious, accidental revenge. Howard of course was the subject of an extended Lee routine about comedians doing charity work a few years ago.
Furthermore Lee has recently been arguing against the private companies Avalon and Hat Trick wanting to buy BBC3. Lee has previously been vociferous about independent production companies who make comedy shows which feature a high number of acts who are connected by management.
As it happens Howard is managed by Avalon, whose television arm is making his show for Comedy Central. The guests include Roisin Conaty, Alex Horne, Rob Delaney, Carl Donnelly and Joe Wilkinson, who all have Avalon connections.
And, as it happens Stewart Lee also used to have an Avalon connection. He used to be managed by them. The line-up of Russell Howard's show is pretty good. It also includes Doc Brown, Nick Helm, Andrew Maxwell and Sara Pascoe. In fact I like a lot of the acts, so shall be watching it though I shall probably hate myself at the same time. I expect Stewart likes a lot of the acts too. I wonder if he can bring himself to tune in.
*Since this piece appeared there has been a lively debate on Twitter about how instrumental Russell Howard's Good News was in promoting new talent before Alternative Comedy Experience came along. I have posted a sequel to this piece here.