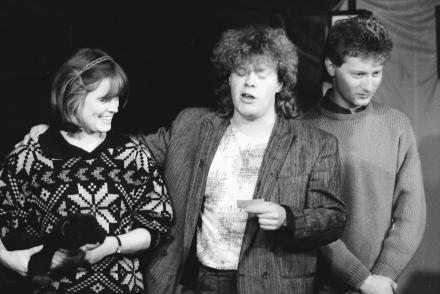 Update 7/6/14 - there's a chance to see the Tunnel Club film on June 17 as part of the East End Film Festival, alongside live appearances from Kevin Eldon, Simon Munnery and Richard Peppiatt. Details here. 
Further to our story last week about the dusting off of some wonderful pictures from the glory days of Malcolm Hardee's Tunnel Club, photographer Bill Alford has been in touch with some more memories of those days and some more info about his involvement. And, best of all, he has given Beyond The Joke permission to run some classic, rarely seen pictures from those legendary gigs. This is Bill's story.
"In January 2010, after three years of hard slog, London film editor Jody VandenBurg was researching content for an ambitious project on the life of the Alternative Comedy impresario Malcolm Hardee. Having been inspired by reading John Fleming's 1996 biography of Hardee, I Stole Freddie Mercury's Birthday Cake, Jody determined to bring Malcolm's significant contribution to the birth of the Alternative Comedy scene in the UK to a wider audience. While engaged in the process of good old fashioned detective work at the British Library, Jody discovered a book published in 1989 written by Peter Rosengard & Roger Wilmut. Didn't You Kill My Mother-in-Law? the Story of Alternative Comedy in Britain from the Comedy Store to Saturday Live was a history tracing the rise of one of the most significant shifts in popular culture. Bingo! With a limited amount of material in the public domain, Jody's discovery of a wealth of images taken in Hardee's South London club was a significant breakthrough.
Contact was made with the photographer responsible via more contemporary detective work, the social media site LinkedIn. Residing in Dublin since 1990, Bill Alford had been the house photographer at Malcolm's club, Sunday Night at The Tunnel Palladium (following a recommendation from local photographer and mentor, Marti Volk). A dark and mysterious venue at the back of a south east London pub, The Mitre, it nestled in the shadow of the Blackwall Tunnel gasworks. This was the home of The Tunnel as in: "Are you goin dahn the Tunnel tonight?" and was considered the Alternative Comedy Club to the Comedy Store, where acts could be tested against the most vocal and unruly audiences. This was Malcolm's domain and the breeding ground for hardened stand-ups before the bright lights or indeed ignominy took them to pastures new.
Between 1985 and 1987, "Bill The Snap" – as coined by Malcolm - supplied B&W prints of each act every Sunday night in return for free beer & the promise of glory. The beer followed but not the glory. Working on the premise that the acts and audience were the stars, Bill kept a low profile while capturing the variety and barely contained anarchy that prevailed. He developed a method of working where using available light not only produced the atmospheric images he sought, but also avoided the wrath of the comedians who would target anyone foolish enough to advertise their presence with a camera flash. Despite Malcom's patronage, anyone was fair game.
After the photos were published in Rosengard & Wilmut's book, Bill moved to his own pastures new but kept all the precious negatives safe, unlike his hero Duffy who burned his! Unaware that these images would one day be of any aesthetic, cultural or historical interest, they spent the next 25 years under the bed.
Jody VandenBurg and Dom Favata scanned over a hundred images from Bill's archive in their Peckham HQ and with Naomi de Pear producing, editing them into a vibrant 30 minute documentary about the club, with interviews of participants from both the audience and the stage, intercutting the B&W stills to dramatic effect. This will hopefully lead to the planned feature length film on Malcom Hardee himself which is currently under way.
Bill Alford's photographs capture not only a moment in time at the formation/birth of many a career on stage in comedy and acting, but also the stark beauty of the solo performer with nothing but their wit and guile to survive. In many cases artists pushing the comedy envelope at the forefront of a movement that is now considered the norm."
Here are his pictures and my captions.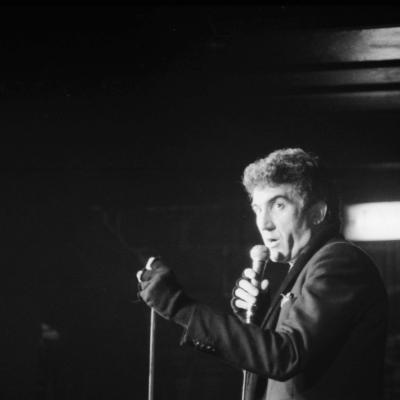 Tony Allen - One of the first Alternative Comedy pioneers.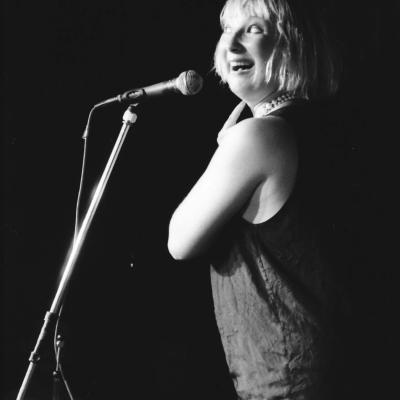 Jenny Eclair – Still going strong. Back then I think she was more of a poet than a grumpy old woman.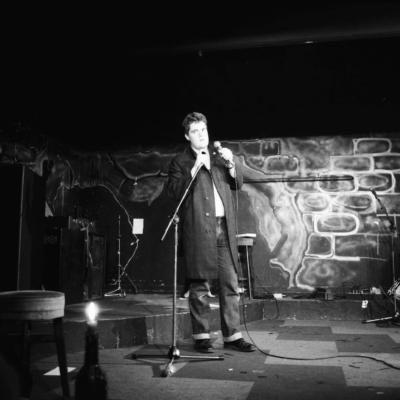 Phill Jupitus – this must have been when Phill was starting out and was more of a poet than a stand-up. I first knew him because he used to work as a press officer at Go Discs Records. I was a music journalist at the time and used to ring Phill up to ask him to send me Billy Bragg and Housemartins albums. The lad done good.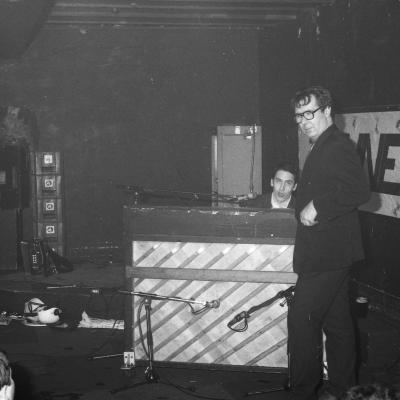 Malcolm in action. A rare shot of him fully clothed.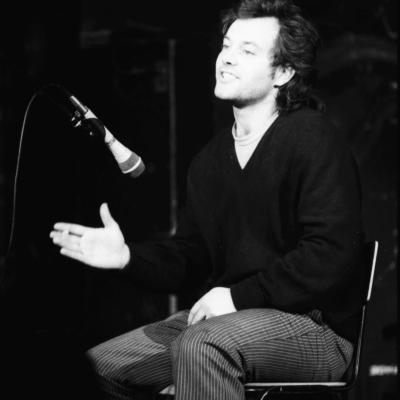 A rare shot of Keith Allen in the 80s not looking angry.
Harry Enfield in what I suspect was his early double act, Dusty and Dick, with Bryan Elsley, who went on to write Skins.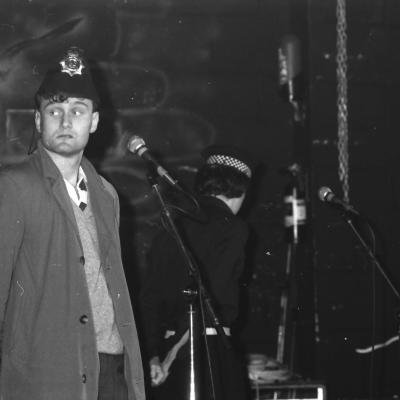 Hugh Dennis - and possibly Steve Punt with his back to the audience - probably the safest way to do stand-up at the Tunnel.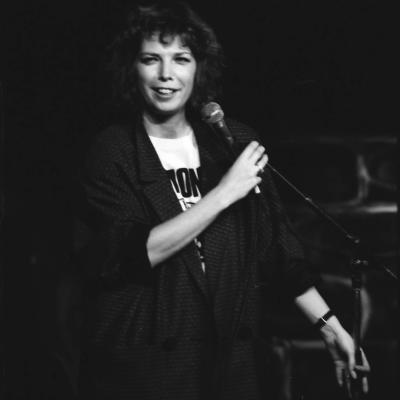 US comedian Kit Hollerbach looking a bit like Bridget Christie. Hollerbach was one of the original impro pioneers in the 80s. She often worked with Jeremy Hardy and fellow American Mac McDonald who looked a bit like John Goodman and used to do messy things making masks out of slices of bread.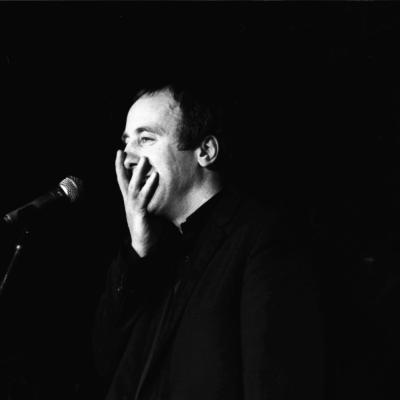 Norman Lovett – Still going strong.
Bill Alford's caption says this is Mike Myers but I think it is his double act partner Neil Mullarkey. They did a thing on Breakfast TV together called the Sound Asleep Club, a send-up of the Wide Awake Club.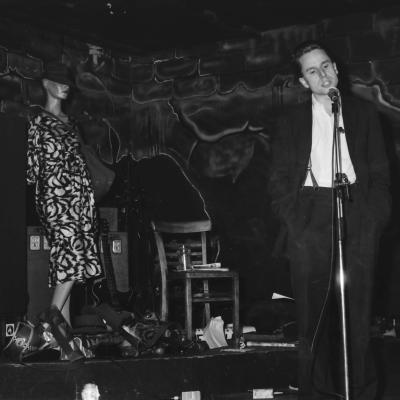 Jeremy Hardy. Hasn't changed a bit. Apart from his gags.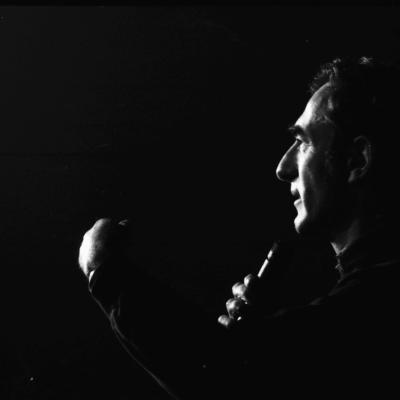 Arnold Brown. One of the original Comedy Store class of '79 and still a class act. 
All pictures copyright Bill Alford. If anyone is interested in using them you can contact Bill via [email protected]