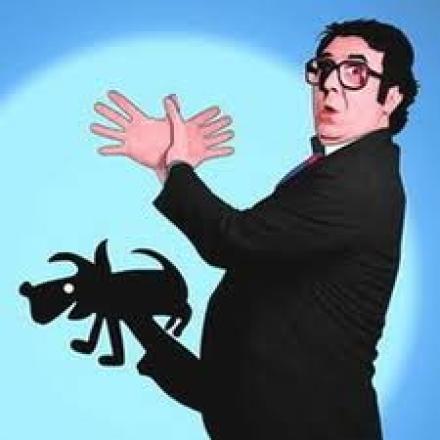 Thanks to Nick Revell pointing them out on Twitter, I've been enjoying wading through some lovely old comedy pictures from the mid-1980s taken by Bill Alford. It is appropriate that they come from Malcolm Hardee's Tunnel Club because to me they feel like an episode of Time Tunnel. Looking at the grainy monochrome I'm thrown into another era. Right wing government, privatisation, unemployment, but yes it was still another era entirely. People even smoked inside! Who would believe it now?.
I didn't ever go to the Tunnel, but I had a friend who worked at the bar there for a while. I got the impression the turnover of staff was pretty regular. Maybe it was the stress of working for a maverick like Malcolm that did it. Or maybe it was just the journey to the arse-end of south London that put people off from going too often. As for the audience, forget the Glasgow Empire, this was the platonic essence of the Tough Crowd. You didn't play the Tunnel Palladium as it was known, you survived it. 
But some determined comedians seemed more than happy to make return visits, although, admittedly I don't think there were quite as many clubs to choose from in those days if you were starting out. Among the pictures is a  great one of Eddie Izzard who, if I'm not mistaken, has permed his fringe, though it could just be the wind blowing off the Thames that gave it an extra curl.
There are plenty more delights too. Of course there are pictures of Malcolm Hardee in various states of sobriety and undress. And is that a frighteningly young John Moloney loitering at the pool table? There's Phil Cool (or maybe a prepubescent Michael Legge), there's a moody shot of original alternative comedy pioneer Tony Allen, there's Norman Lovett (with hair), Arnold Brown, future Hollywood star Mike Myers with Neil Mullarkey, Jerry Sadowitz, Chris Barrie, the late Felix Dexter, Keith Allen, Jenny Eclair (surely not old enough?), Martin Soan, Steve Bowditch (who I think I spotted as an extra in Toast of London the other night), Squeeze, Steve Gribbin, and Hardee again in The Greatest Show on Legs, 
The other pictures that intrigue me are of a youthful Vic Reeves, who appears to be orchestrating some kind of election campaign on behalf of Hardee. I'd been told that the pictures originate from around 1985, but with a little bit of research I've worked out that they date from around February 26, 1987, the date of a local election in Greenwich when Malcolm Hardee stood as a candidate for the Beer, Fags & Skittles Party and got 124 votes. I think this may have been a spin-off of the Rainbow Alliance, formed by Peter Cook's chum George Weiss, who also appears in a few pictures. 
The timing is interesting, because this is either just before or just after Vic had met Bob Mortimer. They didn't work as a regular double act at first so this may have been one of those occasions when Bob had a night off - though it wouldn't surprise me if he was in the audience having a pint. In the pictures of Vic one can also see Fred Aylward, who would later go on to become Les in Big Night Out, who suffered from an inordinate fear of chives.
One interesting thing to come out of these pictures is that a myth about Malcolm Hardee may have been finally debunked. I had always heard that Hardee once pissed in the pint of a sleeping punter. Nick Revell says that he was there on the night and actually Hardee pissed on the sleeping man's head. Although, of course, it wouldn't surprise me if on another night Hardee did top up a man's pint. 
The picture on this page is not one of Bill Alford's. I am currently trying to track him down to get permission to use his pics. In the meantime you can see them here.