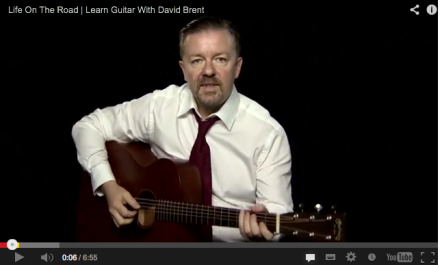 I haven't quite worked out the purpose of YouTube's first ever Comedy Week yet. If it is about trying to get more people to watch YouTube that would seem like a fairly futile exercise. A bit like a TV advert saying "Eat Food" or "Please Remember to Breathe". Everybody does it anyway.
I guess the reason, apart from possibly generating more advertising revenue, is to show that they can make original content and that they can be media players alongside not just established broadcasting networks but also newbies such as Netflix and Amazon.
If that's the case they've certainly got some big guns on their side as well as the inevitable quirky cult favourites. Their opening show was hosted by Sarah Silverman who was in typical edgy mode, stabbing a production assistant and co-host Seth Rogan. It looked pretty convincing too. Silverman's also stars in one of the first big videos alongside Will.i.am. In Perfect Night the voice of a generation spoofs the I've Got A Feeling sensibility with an anthemic, pumping club banger all about staying in and not really doing anything at all. Nicely done. I was particularly impressed by her audacious rhyming of "bong hit" and "armpit".
The best moment of weirdness is provided by oddball chum of Flight of the Conchords, Reggie Watts, who does a straight retake of Rick Astley's Never Gonna Give You Up. The joke is that Watts is wearing the same clothes and doing the same wobbly dance as Astley, but is a large black man with a beard and afro who does not know all the lyrics so sings most of the song in a mumble redolent of Vic Reeves' Club Singer. It's a little over-egged and reminded me of Kevin Eldon's recent Amish/Pistols mash-up, but I imagine it gets funnier the more bong hits you've had.
The biggest gun to be wheeled out so far, however, is Ricky Gervais doing a series of Learn Guitar With David Brent. Gervais has already revived Brent for Comic Relief this year so there is slightly less excitement about seeing him again but he has perfectly re-captured Brent's continuing desperation to be loved and, more importantly his desperation for people to find him funny. He is also as inappopriate as ever, at one point saying that he has "always been mad" but quickly qualifying it by adding that "by mad I mean zany".
The video is a little too polished to feel completely authentic. Surely David Brent blew all of his redundancy package on his lamentable pop career a decade ago and would be struggling to make ends meet by now? Shouldn't the camera wobble? Shouldn't it be more badly edited? Maybe Gervais thought that those were cheap tricks that would make it too corny. Instead he relies on a nervous laugh and his pleading, hurt eyes to convey the pathos of Brent's existential crisis. I'll certainly be back for more later this week, so Ricky Gervais must be doing something right.
So far David Brent's tutorials stand out as the best new clips on offer. By contrast Jamie Oliver's contribution is the worst so far. As a follow-up to a previous interactive clip when you were able to press a key and slap everyone's favourite blokey chef right in his very own kitchen (or, possibly, in a studio), this time round you have the option of tickling him with a feather duster, poking him with a rubber chicken or choosing a mystery option. I'm not a big video games fan but let's just say that none of these effects are a patch on Metal Gear (the original and best version) or World of Warcraft. Not even the mystery one where Jamie is snogged by a man in a Mr Potato Head suit. No need to hamg around, not much comedy to see here I'm afraid. If only the subject was Gordon Ramsay and they had used real electronic cattle prods it could have been so much funnier.
The musical spoof is a tough nut to get perfect but an easy one to get a few laughs out of. Tim & Eric get more than an average amount of chuckles with their beautifully observed, deceptively warped Goatee song, which proves what I've always suspected, that you can make an airbrushed piano-led power ballad out of pretty much any subject. The melody is spot on except for an increasingly jarring drum beat and in the middle we cut to an analysis of various stylishly-trimmed goatees. The secret is in taking the trivial and turning it into something epic by taking it way too seriously. Perhaps not Total Eclipse of the Heart. Maybe Total Eclipse of the Chin.