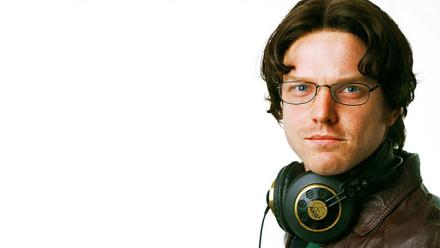 I was really glad that the BBC2 series Bellamy's People did not return after one series. Not because it was awful. It was actually very good. But it meant that spoof DJ Gary Bellamy could return to Radio 4 with his "flagship phone-in show" Down The Line, which is even better. It currently goes out at 6.30pm on Wednesdays and I solemnly urge you to tune in.
I wondered if this "relegation" from TV to radio would work. I initially feared that maybe there would be too much of an Alan Partridge-on-North-Norfolk-Digital vibe to it. But nothing of the sort. Rhys Thomas as straight-talking host Bellamy has such a total lack of self-knowledge ("I'm taking on the problems of the whole world") there is never any suggestion of him worrying that his career has gone into free fall.
There is never any comedy grandstanding from Thomas. His lines are delivered with no trace of irony, however gallumphingly awkward they are: "Your call is an angry call, so I thought a bit of angry music would help." "Gay marriage. When it comes down to it who actually gives a stuff?" His job is to take the calls from characters such as annoying Dave from Crawley played by a top quality cast including Felix Dexter, Amelia Bullmore, Robert Popper, Adil Ray, Paul Whitehouse and Charlie Higson which are performed so straight they are totally believable. Simon Day is particularly good value as reformed criminal Tony Beckton – "two geezers banged up in a cell. A mans got needs..."  I find it hard to believe that this show can be recorded in one, two or even ten takes. Surely the entire cast is constantly corpsing?
There is another thing about the show which is so amazing. When Down The Line first slipped out without fanfare on late night radio I heard it driving home from a gig and really did think for a moment that I'd accidentally tuned in to some dreadful graveyard shift local radio DJ. It was only when I checked the dial and the time and twigged that this was a traditional Radio 4 comedy slot that my spoof antenna went up. 
A lot of listeners were, however, taken in by the unashamed racists and homophobes phoning in even if they were slightly perturbed by Bellamy's distinctly non-BBC accent. And if you listen to the show again without knowing who Gary Bellamy really is it is quite possible to be taken in a second time around. So, once again, I'm sorry the TV series didn't pan out. And welcome back to the radio Gary. I think it's where you belong.