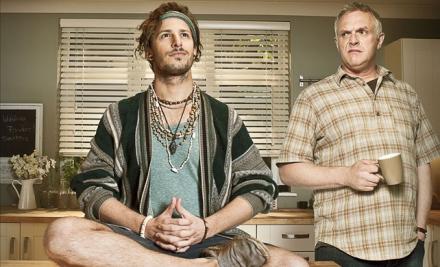 When I heard the news that there was talk of BBC3 being axed to save the corporation £90 million per year my immediate thought was 'here we go again, more corporate codswallop like the thing about axing BBC6'. BBC3 has given us some great comedy over the years, from Little Britain and The Mighty Boosh to Nighty Night, Pulling and, most recently, Uncle. How could the BBC possible entertain even the slightest thought of turning off the channel.
But then I thought about it a bit more. BBC3 has also given us Two Pints Of Lager And A Packet Of Crisps and F*** Off, I'm A Hairy Woman. It is a channel with an identity crisis. For all the talk of it as an essential nursery slope for new talent, it is a channel with a split personality. It doesn't know whether to make you watch the screen in horror at freak shows and ladcoms or make you laugh at intelligent, snappy, dialogue.
I love their comedy – well, most of it – but hate almost everything else. When I heard that BBC3 had launched a series called Pramface I recoiled and expected some documentary about twentysomething grandmothers with council estate facelifts. In fact it has turned out to be a funny, contemporary sitcom. Though I still recoil a bit whenever I see Angus Deayton onscreen.
If BBC3 is to survive and thrive maybe it needs to sort this contradiction out. And given the fact that its most favourably received programmes have been the aforementioned comedies could the BBC turn it into a dedicated comedy channel? There is certainly enough talent out there. But again they are in a bit of a dilemma about what to do with this plethora of new comedians banging on their door.
The BBC is very enthusiastic about making new pilots for their Feed My Funny series – Josh Widdicombe has one in the next run – but they are going out primarily online with a BBC3 broadcast later. I can understand this obsession with online comedy, but it hardly does much to strengthen the BBC3 brand if 'new' programmes end up effectively being repeats for a lot of savvy viewers with a broadband connection. Maybe the logical conclusion is to make BBC3 an online channel (Update - following publication of this piece this looks like the most likely outcome now. BBC must read BTJ...)
It is great that the likes of Matt Lucas and Jack Whitehall have been vocal in their support for BBC3, but I'm sure they would have both made it without the support of the channel. Little Britain – like The Mighty Boosh – started out on radio and if there hadn't been a BBC3 it may well have worked its way onto BBC2 as popular radio shows traidtionally did in ye olde steam-driven days – Lucas and Walliams had already had a BBC2 series, Sir Bernard's Stately Homes, in 1998. In the end LB was such a hit it went straight from BBC3 to BBC1.
Bad Education, Nighty Night, Cuckoo and Uncle and BBC3's other hits would fit perfectly well into a BBC2 10pm slot. Him & Her was way too sophisticated for BBC3. My heart says save BBC3 but my head says would we really miss it if the programmes classy enough for BBC1 & BBC2 went there and the ones that weren't quite ready were trailed online? Maybe it is time to say nighty night to BBC3 in its current format but use some of the savings to nurture new comedy elsewhere.
Of course, the more places there are for TV comedy the more chances there are that some bright young thing that could have been overlooked will be discovered. But it is the job of perceptive producers and brave commissioners to spot the best projects and people for the slots available. The cream will then rise. Maybe there are occasional unmissable programmes that fit a BBC3 brief that wouldn't fit a BBC2 brief, but they are few and far between. E4 can always have them.
Obviously if money was no object I'd say leave BBC3 alone. It is largely doing a good job as well as making some dodgy decisions. But if the BBC needs to save money it could do that by cutting back on the reality TV piffle that pads out the BBC3 schedules. The endless Spying On My Kids While They Shag documentaries or Snog, Marry, Avoid, which are definitely best avoided. I just had a look at Snog, Marry, Avoid online - never mind scrapping the whole channel, if the BBC just cut back on the make-up bill of that show they could surely stay out of the red.