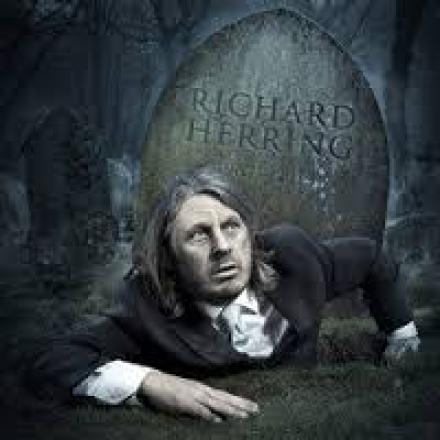 These days it feels as if everyone should be taking notes at gigs and not just if you are reviewing it. A few years ago there was a fear that stand-up was dumbing down. That we were destined to live in a world where we did nothing but put useless odds and ends in our man drawers. This week, however, I've been struck by how often comedy currently opts for the high brow option. 
On Monday in Birmingham Russell Brand played the first night of his Messiah Complex tour, reviewed here. Brand certainly crams a lot into his 90-minute show. It's the kind of gig that should come with a reading list - he quotes Nietzsche, GK Chesterton, Einstein and, I think, Wittgenstein. I never thought my philosophy degree would come in handy at a comedy gig but as Brand moved on and wondered which Birmingham lovely he would be spending the night with I was thinking about sitting in a tutorial trying to get to grips with The Tractatus Logico-Philosophicus.
Then last night I saw Richard Herring at the Leicester Square Theatre, review here. He also squeezes a gallon of ideas into a pint-sized show. As well as the obligatory knob gags – though no penis beaker banter – Herring quoted Keats and Shakespeare. This is my favourite sort of comedy. Performers that use their intelligence and demand some concentration, but don't wear that intelligence too heavily. 
This mind-expanding braining-up has always been bubbling away in the comedy background, but it appears to be boiling up again. Robin Ince arguably pioneered this intellectual re-awakening with his Christmas/Infinite Monkey Cage shows (by the way, I don't count Python, they weren't stand-ups and QI is a telly series, not stand-up). Dara O'Briain joined in with his smart, well-informed science work. Bill Bailey knows his naturalist stuff.* Tim Minchin started doing gags about Richard Dawkins.  Robert Newman also namechecks Dawkins, alongside Darwin and Kropotkin in his latest show. In fact it has recently got to the point where Dawkins gags have almost become as hack as airport security gags.
Back at the Edinburgh Festival in the summer Sara Pascoe also quoted Nietzsche and, of course, Bridget Christie had a riff about 16-year-old Malala Yousafzai, who was shot by the Taliban and is now tipped to pick up the Nobel Peace Prize. There was also a general sense in Edinburgh of comedy that was thinking about comedy rather than just making people laugh. Alfie Brown and Bo Burnham both deconstructed their acts while in the very act of performing them.
I was amazed at how well Brand's thoughtful, philosophical Birmingham show went down. Nothing against Brummies, but early on in the gig I saw the silhouette in front of me of two blonde women tottering out on their stilettos. I thought maybe there would be further premature evacuations as his fans realised what they had let themselves in for. But most of them stayed and enjoyed what they heard. In fact even those two women tottered back in a few minutes later. Maybe they were just touching up their eye-shadow. Or maybe they nipped out to WH Smith to buy a notebook and pen.
*After this piece was posted Marcus Brigstocke piped up on Twitter. He should get a mention too.