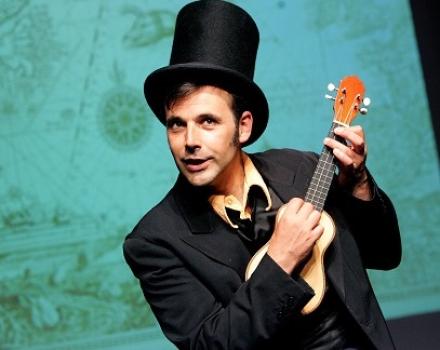 Normally at a comedy gig I feel self-conscious whipping out my notebook. But Robert Newman's modestly-titled New Theory of Evolution is not a normal comedy show. At times it feels so much like a lecture that taking notes feels perfectly natural.
It is in no normal venue either. The Little Angel Theatre usually features puppets onstage. In fact Newman is introduced by one before he appears and ploughs straight into his 90-minute set, presenting his partly radical ideas about how evolution comes via cooperation, no competition, thus rejecting the accepted Survival of the Fittest concept.
This is, of course, a long way from David Baddiel and Rob Newman's Wembley Arena gig in 1993 which established the possibility of comedy as arena entertainment in the UK. By a nice piece of stand-up synchronicity both are now returning to the comedy circuit after a period away. Newman with this, Baddiel with Fame: Not The Musical, currently at its warm-up stage around London. Both now add gags to more mature, cerebral ideas. Baddiel is exploring the nature of celebrity (I haven't seen it yet, but it sounds intriguing), Newman sounds more overtly political, championing the lefty thesis of cooperation and mutual support over the righty thesis of dog-eat-dog competitiveness.
Both writer/performers are clearly ambitious, deep thinkers who like to mix the accessible and the pop cultural with the intellectual. In other words, my kinda comedy. But, it has to be said, Newman's bookish piece is hard going at times. Familiar names from history fly out thick and fast. from Darwin to Kropotkin via Hans Christian Andersen. Curiously, though, he doesn't mention Alfred Russel Wallace, Darwin's rival and Bill Bailey's hero. I certainly learnt things though. I didn't realise Darwin's grandfather Erasmus was a poet who also had a theory of evolution. It seems they were all at it back then. 
Within his dense text there are some lovely stories and images. Newman's dream of using one of those seesaw manual train thingies you always see in silent movies, for instance is a nice motif. There's also a decent Richard Burton impression as he tells an anecdote of the famed actor being banned from the BBC for dissing Churchill. Burton wasn't too bothered, He was able to head to Hollywood and join Elizabeth Taylor on Cleopatra. Some punishment.
Yet in the middle of the show Newman decides to stick the boot into Richard Dawkins in an extended routine imagining Dawkins having a debate about identity with his postman which ends up in a strange Alan Bates/Oliver Reed Women in Love wrestling romp. It feels like a gratuitous sniping. Surely Newman and Dawkins are broadly on the same side? After being a darling of comedians such as Robin Ince there seems to be a sudden, unexpected Dawkins backlash at the moment.
This slightly soured an otherwise stimulating show. Newman's style is very passive-aggressive professorial these days as he scuttles around the stage like a sexy Jacob Bronowski, treating himself to some thirst-quenching green gunk whenever he gets a longer laugh. And despite the dryness of the well-researched material there are plenty of laughs. But in the same way Newman has to work hard to earn his green gunk you have to work hard to earn the laughs. Appropriately for a show in a puppet theatre, this is comedy with strings attached. 
Robert Newman's run at the Little Angel Theatre ends on June 1st. He will then be doing book readings of his new book The Trade Secret and a UK tour of this show in the autumn. Details here.