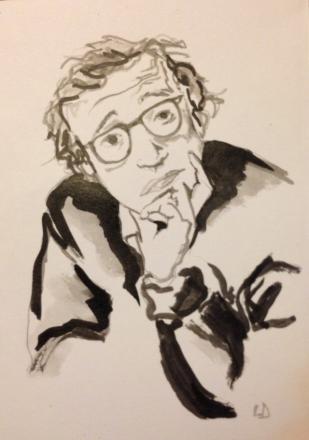 I've written before about comedians making comebacks after a period away from the stage. David Baddiel, for instance, is back in Edinburgh in a few weeks for the first time in 15 or 16 years depending on what website you read. Either way it is a long time but not as long as the hiatus since Woody Allen last did stand-up, which must surely be in terms of decades rather than years. But in an interview in the New York Times the 77-year-old Academy Award winner has said that he has contemplated going back onstage having seen the 85-year-old legend Mort Sahl in action. Allen told the New York Times that "Watching him, I had the same feeling now, in 2013, as I had when I saw him in 1950-something. Of, 'Hey, I'd like to get back onstage and do standup again.' He inspired me then to be a standup comic, and all these years later, I thought of it again because of him. He makes that phenomenon so enticing." 
I'm not sure how the prolific filmmaker would fit a live tour in, but then again he has toured with his jazz band in the past so that hurdle can presumably be overcome. But secondly, would he be any good? Erm, that's a difficult one. And in a way we could only find out if he actually did it. But there are clearly pros and cons to Allen doing stand-up again. Here are a few arguments for and against to help you make up your own mind.
PRO 1) "Diluting the legacy." This was the phrase Alexei Sayle's wife used when she was worried that her husband was going to return to stand-up and spoil people's memories of him at his peak. Like Allen, Sayle was a hugely influential comedy legend for a generation who had not seen him actually perform. Maybe the reality would not live up to the dream. Luckily it pretty much did, so maybe Allen could pull off the same trick.
ANTI 2) Older comedians just aren't as good as younger comedians. Someone better than me at maths needs to do a Venn Diagram or something about this. I think it's been said that 44 is the optimum age for a stand-up. Any younger and they aren't experienced enough, any older and they aren't sharp enough. Billy Connolly was great last time I saw him but he has been known to get lost. I don't mean not find his way to the theatre, I mean forget which story he is telling. Jackie Mason was OK but not at his best on his last London visit.
PRO 3) On form, however, older comedians are terrific. Joan Rivers seems to get better with every passing visit to the cosmetic surgeon. She is like a Borscht Belt version of Catherine Tate's nan or any pensioner you've encountered in the Post Office queue. She doesn't care what she says or who she offends and as long as you have an open mind that can make for a wonderful night out.
PRO 4) If Woody Allen tours that means he might make less films. If it means he makes less films like Cassandra's Dream or Match Point I don't have a problem with that. If it means he makes less films like Annie Hall or Manhattan I do. His new film, Blue Jasmine, certainly sounds interesting – it features stand-ups Louis CK and Andrew Dice Clay. Maybe working with Louis CK also got his stand-up juices flowing again.
PRO 5) He might as well tour. He is unlikely to make another timeless classic  like Annie Hall or Manhattan. 
PRO 6) In fact he might even be quite good. He might be a bit slower these days but when he appears onstage as himself you can still see the man who delivered the classic Moose story forty years ago. Here's a clip of Allen at the Oscars a decade ago. The timing and delivery could teach a lot of younger Woody Wanabees a thing or two.
PRO 7) I'd really love to see Woody Allen do stand-up. More than I'd love to see his next movie.
It would appear that the result is a definitive Pro 6 Anti 1. If Woody reads BTJ expect him to be pitching up at the Soho Theatre any day now.