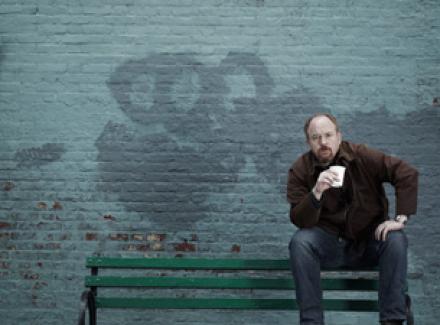 Louis CK plays the O2 Arena on March 20 and two shows at the Hammersmith Apollo on March 21. You can buy tickets here. That is a hell of a jump from 2008 when I interviewed him for The Times. Back then he was coming over to do some shows at the 160-seater Soho Theatre. So what went right? Well, he has a hit TV show, Louie, currently airing on Fox. He has pioneered a successful way of selling recordings of his gigs via his own website here and cutting out the middle man. And he is chums with Ricky Gervais, which can't be doing him any harm in exposure terms.
But in terms of the style and content of CK's comedy nothing much has changed. He was bleak and bitter and middle aged in 2008. He is bleak and bitter and middle aged now. He was hilariously, scathingly funny in 2008. He is hilariously, scathingly funny now. He was painfully honest in 2008. He is painfully honest now. He could deliver a perfectly timed knockout punchline in 2008. He can deliver a perfectly timed knockout punchline now. The only thing that has changed? The UK has caught up with Louis CK. Maybe the UK is more bleak, bitter and middle aged now.
If tickets for his UK shows sell out, Louis CK should pay Ricky Gervais commission. The skilful American stand-up is hardly known over here, but a resounding endorsement from the all-conquering clown on his posters should reap handsome dividends. "The funniest stand-up working America," Gervais declares. If that doesn't get people turning up, nothing will.
After more than 20 years in the business, this affable, Washington-born 40-year-old, who bagged an Emmy for his writing on The Chris Rock Show, is getting the kind of support from Gervais that rivals can only dream about. CK - the name is a childhood condensation of his Hungarian surname, Szekely - co-stars in Gervais's Hollywood directorial debut This Side of the Truth. "I play Ricky's best friend," he explains, which is also what he has become in real life.
It was a minor role until Gervais smelt the chemistry and fleshed him out. "It was a huge thrill. The English version of The Office was one of my most favourite things in the world. A lot of US sitcoms are predictable; this was unique, a great piece of human storytelling. Most people in the world live in Slough. I love comedy that makes you laugh, but also makes you go, 'Oh my God, how could you even say that?' That's awe-inspiring."
The Office influenced CK's own 2006 sitcom Lucky Louie, but after one series his version of a "gloves-off, no-bullshit, no-saccharine, real marriage" was cancelled. "I think people like to hear bad people cursing, but they don't like to hear families cursing. The Sopranos can be profane because they are murderers, but we were supposed to be mum and dad trying to live an honest living. I think parents have earnt the right to say f*** and c*** and smoke and drink when their kids are not looking. That's how most parents I know cope, but people didn't want to see it."
Maybe they also didn't want to see him naked. "The show was like my stage act, driven by honesty. So we had a scene where my wife and I are having sex, then I get up and go to the bathroom and we realised I wouldn't have underwear on, so we just did it." Another scene in which his brother-in-law waggled his penis in his face may have been a US comedy first but it did not save the show. "People that complain make trouble. People that aren't offended don't march," he says philosophically.
CK onstage could be described as a freckly, irritable, American Gervais, pushing comedy to the limit with contentious riffs on sex, race and religion. If you are a devout Roman Catholic it might be advisable to avoid his YouTube diatribe against child-abusing priests. He is on more universal ground discussing the way post office queues mooch around ("like a silent movie of impatient people") or coming to terms with the shock of sprouting middle-aged man boobs ("It's the only thing that a 12-year-old girl and a 40-year-old man have in common").
"I try to be honest. I don't pull any punches," he says. "A muscle or bone was removed from me in recent years that previously made me afraid of offending. I used to be more cautious, but now people laugh so hard they describe the pain to a doctor. That's gold for me."
Yet being described as politically incorrect makes him flinch: "You picture a guy in a black leather jacket with a cigarette hanging out of his mouth saying 'f*** the Pope'. That's not me. It seems to me that the funniest places to mine for laughs are the places people are not used to going. But there is no point going there just to annoy people."
He does not even think he is that controversial: "Look at Peter Cook and Dudley Moore when they did Derek and Clive. It was just two men sitting in a room burping and saying disgusting things. Ricky and I were talking about them and we both felt that that's as far as comedy has ever gone. We are within the limit compared to those guys."
The Gervais connection could turbo-charge a film career, but he is wary of swapping theatres for multiplexes: "I'd rather write a new show every year and tour." He has seen seminal comedians from Eddie Murphy to Steve Martin pursue the Hollywood holy grail with mixed results. "Those people have only made three good movies between them in the past 25 years. All I can think of is how much time those guys wasted on the set."