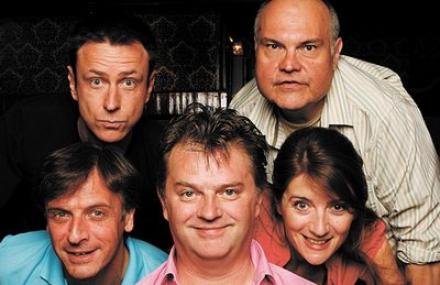 I caught Paul Merton on The One Show the other night promoting his new tour. He was not able to say too much about it, of course, because it is with Paul Merton's Impro Chums so it will be different every night.
There is one thing I'm pretty sure about though. Even on an off night it will probably be better than Merton's stand-up comeback which I saw in the West End last year and am still trying to forget about. Out of My Head was a collection of anecdotes and sketches which were loosely linked to Merton's brief stay in the Maudsley Psychiatric Hospital in the late 1980s and involved, at one point, some flying rabbits. Bad? I nearly wanted to check into the Maudsley myself to have counselling after seeing it.
It's part of the weird alchemy of comedy that an improvised show that is made up on the spot can be better than a script that is sweated and toiled over for months. I interviewed Paul Merton shortly before his West End run and he had already toured the show and made some tweaks to it. Merton knows his comedy, in fact he has been obsessed by comedy since he was a child, so deep down he must have known that the show wasn't really working. But the theatre was booked, the tickets were sold, the posters were up, I guess the show, however patchy, had to go on.
Improvised comedy is a strange thing. Curb Your Enthusiasm and The Office look outwardly similar. Both major in the comedy of awkwardness and inappropriateness. Yet Ricky Gervais toils hard over every word in his script, while Larry David apparently has a few plot points that have to be reached in each episode and lets the cast improvise their way to the next scene. I assume the first take is not always used, but it is still amazing that the show - and the narrative - works out so well. 
Maybe it is purely down to the chemistry of the cast of Curb. Christopher Guest tried to do a similar thing on the recent HBO/BBC collaboration Family Tree but somehow, despite having performers of the calibre of Chris O'Dowd, Michael McKean and Nina Conti it didn't ever really gel. 
Impro is currently in the news at the moment because it is making a comeback and there is a bit of a lobby to get it recognised by the Foster's Awards, whose rules say that a show has to be pretty much the same every night. I remember years ago there was a problem judging Phil Kay because he was so unpredictable, but he still managed to pick up a Perrier nomination so looser shows can do well even under the current rules. Ross Noble was also a contender despite being partial to ad hoc banter, so I don't support a change to the rules. Maybe a separate category if you really push me, but I still think the main prize should go to scripted comedy.
Maybe there is a difference between a solo freewheeler who bounces off the audience and a troupe such as The Noise Next Door, who wrote a piece for Chortle on the subject, Showstoppers or Austentatious. The latter two sound more theatrical. In fact they are theatrical, putting on a new musical and new play at each performance, so even if the rules were changed I'm not sure if they should be eligible. And then there is Set List, in which stand-ups have to deliver sets off the top of their head based on random subject titles. Some improvise, some slightly 'cheat' and shoehorn established routines in to save their dignity.
But never mind awards, it is being funny that counts. I've seen Merton do scripted and unscripted shows in recent years and there is always a thrill at his impro shows which was missing from his stand-up show. Of course stand-up can be funny, but if you are sticking to a script which stinks you are stuffed. Impro is, as the people behind Set List, say, comedy without a net. Sometimes it is funny to see comedians die a horrible death at Set List but it is only a one-off, not a nightly ocurrence. But there is of course a further attraction to impro. As another veteran of the genre Stephen Frost once told me, it's all the fun of stand-up with none of the hassle of learning a script.