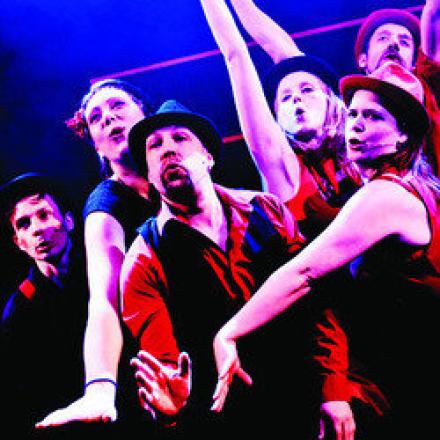 Improvised comedy is, by its very nature, full of surprises. And perhaps the biggest surprise is that over two decades after the format became popular on television with Whose Line Is It Anyway? (the American version is, amazingly, back on the air over there) it is thriving on the UK live circuit. 
Impro had a pretty good run at the Edinburgh Festival last month, although by its very nature it can't be up for the Foster's Award because shows have to be largely the same every night to be eligible. In Scotland it was not just the veteran Paul Merton – who still pitches up in London with the Comedy Store Players on Sundays – and his Impro Chums doing the same old theatre games that wowed the fans. Austentatious, back in London now and featuring Cariad Lloyd and Rachel Parris, put a literary spin on the format and delivered a new Austen-based playlet each night. 
Elsewhere on the Fringe Phill Jupitus did Voices In Your Head, where he had to act out scenarios put to him from offstage. Another live hit, also seen on Sky Atlantic, is Set List, in which comedians have to improvise stand-up routines. It has never quite done it for me, but stand-ups absolutely love it, even though most of them seem shit-scared just as they are about to go on. 
And then there is The Showstoppers, who have been doing their improvised musical - a different one every night – for over three years. Obviously in that time a few tropes tend to repeat themselves. The skilful line-up, including Pippa Evans (aka Loretta Maine) must have lost count of how many Lord Webber-inspired pastiches they've done, or how many grandstanding Les Mis parodies they've come up with, but the show still always feels genuinely fresh and spontaneous. And, boy, do the team work hard to entertain you. If you think thinking of gags on the spot is hard, try improvising a West End musical finale, complete with chorus, harmonies and maybe even some choreography.
You can see how good they are at it for yourselves this autumn. The Showstoppers UK tour starts in Brentford on September 14th, details here. 
And, coincidentally, if you want to see a talk with one of comedy's great improvisors, Stephen Frost will be interviewed by Richard Strange at the House of St Barnabas in Soho on Oct 17. Frost has appeared in The Young Ones, made a mint from his Carling Black Label adverts (and probably drunk some of the profits) and is still a regular performer. I last saw him in action in a ski lift in Mayrhofen on the way to an impro gig with Andy Smart, Phill Jupitus and Eddie Izzard at the Altitude Festival. This man never stops working. Except to talk about his work. Details here.