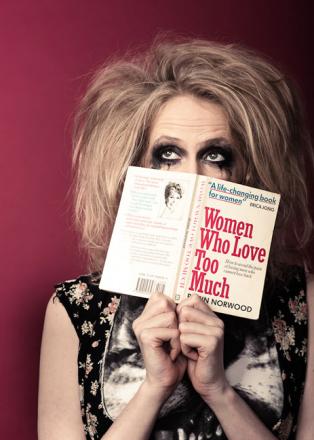 Pippa Evans is part of the improvisation night Showstoppers, but she also moonlights with a showstopper of her own in the form of Loretta Maine, a country rock chanteuse who is vocally a little bit Alanis, a little bit Sheryl Crow, but mentally a car wreck, torn between attention-grabbing and reclusiveness. As she sings at the start of her Soho Theatre gig on her show's theme tune, Bipolar, "Stop looking at me, but keep looking at me". Actually that sounds like the attitude of a lot of stand-ups I've met over the years.
Maine's set works as much as a musical gig as a comedy hour. The songs are brilliantly catchy and infectious and the barbed, witty lyrics are the icing on the cake: "I'm 29 not going far, no tax to dodge like Jimmy Carr". Between the music she bitches about the men who have ruined her life and the men on her stage, her two-person backing band Penis Envy, who make a terrific deadpan foil for her husky-voiced rants.
The trouble is that this set starts so strongly it can't possibly sustain the same level of energy throughout or Maine would combust. There is a lovely frisson when she intermittently struts through the audience, but the set starts to run out of steam when the music begins to drift into different genres. Things might be more cohesive if she stayed closer to Nashville. Her bouncy tirade against cosmetic surgery, Barbie Beautiful, borders on boring electropop, but is rescued by her band taking on the role of Kraftwerk-style reluctant robotic dancers,
Gradually I started to spot ways in which the act reminded me of other acts. In fairness Maine gets in first, describing her scarecrow-haired, panda-eyed appearance as a cross between Tim Minchin and Alice Cooper, but, and I'm sure it is pure coincidence, there are other echoes too. At times this feels like a comedy spoof act as much as a musical spoof act.
Her party trick of downing vast quantities of wine and getting more and more screechily drunk has been done before by Justin Edwards' children's entertainer Jeremy Lion, while her banter with a fan followed by an improvised song about them, though good, has been bettered by Rich Hall. Her penchant for unlikely country music titles such as If You Rape Me Again I'm Calling The Police will be familiar to Tina C fans. Although admittedly country music already does a pretty good job of sending itself up in the titles department – you can't really beat Drop Kick Me Jesus Through The Goalposts of Life.
Not only does Maine resemble Minchin there is even a version of a Whitney Houston song that Tim Minchin has used in his act, although Maine has a much better vocal range than Minchin. But as I said, this is just a critic failing to hide the fact that he has seen way too much comedy over the years. A few gratuitous gags at the expense of Adele and Paul McCartney – pretty ripe after her Barbie Beautiful rant against body fascism – feel like they have been lobbed in because Evans knows that they will get an easy laugh. But despite all of these issues, this is still an enjoyable evening in terms of pure entertainment. Pippa Evans is clearly very talented and if you simply want a good night out this show is Maine-ly a lot of fun.