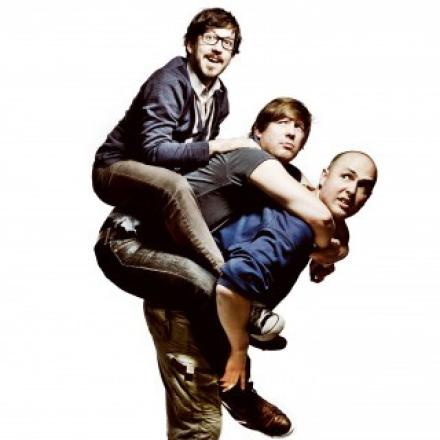 When the fifth Chortle Award winner was announced last night and Pappy's won best Character or Sketch Act I received a sharp nudge in the ribs from my partner as she said "you know the results already don't you." I explained that I had been on the panel that chose the nominees, so they were educated, informed guesses, but the winners were chosen by readers of Chortle so ultimately any nominated name could have come out of Chortlemeister Steve Bennett's hat.
Maybe I should get into the betting game though. Close advance scrutiny of the list helped me to pick the correct winners. The awards might have been predictable, but, without exception, the right choices were made, showing that Chortle readers have exquisite taste. The only gong winner I failed to second guess was for Best DVD. I opted for Stewart Lee's live DVD but Fist of Fun 2 won, so I can claim to be half right on that.
As for the other awards Lucy Beaumont has become a distinctive fixture in recent new talent competitions so was a good shot for Best Newcomer. Dr Brown won the Foster's Award last summer so was a deserving Breakthrough Act. Club comic was a tougher call but Tony Law has really come good this year – in fact maybe he should have been best Breakthrough Act – as he said himself, he was a bit bemused because he doesn't get booked by a lot of clubs. I bet he will be now. Law also won Best Show, which made more sense, though in fairness Pappy's could have won that too and there would not have been a riot in the Cafe De Paris where the awards ceremony took place.
Best compere went rightly to Susan Calman. Jarred Christmas is a gold-plated MC but I'm sure he has won it before. If he hasn't maybe he should win it next year. The aforementioned Pappy's won their category and raised not a single eyebrow - they could have won it with a duff show, but this year's show, which opens at the Soho Theatre next week, might be called their Last Show Ever, but it is actually their best show ever.
Music and Variety was tougher to call. My heart said The Horne Section because it is such a playfully clever show, but my head smartly said The Boy With Tape on his Face. Best tour was tricky to work out with Tape Boy, Greg Davies and Mark Thomas all upping their game this year, but Stewart Lee (in the scandalous absence of Daniel Kitson) is pretty much Chortle's in-house stand-up and won it with Carpet Remnant World, which was brilliant but not his best show, or even his second best show. As I wrote earlier, he didn't win best DVD in his own right, but got to share it with Richard Herring for Fist of Fun 2. Richard Herring got Internet Award to himself for his Leicester Square Podcasts, but then he is basically Mr Internet these days when it comes to irreverent British lo-fi comedy/sketches/interviews.
TV Award for The Thick of It was understandable. I'd have given it to Fresh Meat, but I think maybe Chortle readers are still slightly resistant to the charms of Jack Whitehall. Radio Award to John Finnemore's Souvenir Programme was spot on. I've been predicting great things for Finnemore for more years than I care to remember. Maybe his rise finally starts here.
If there was a surprise of the night it was Louis CK beating Alternative Comedy Memorial Society to Award for Innovation. i'd have thought the back-to-anarchic-basics ACMS was more Chortle-flavoured but I guess CK had the following wind of his recent UK visit to boost interest in him. While he lost some good will by playing the O2 he regained it by delivering such a blistering show.
As for Lifetime Achievement Award, if they aren't going to give it to Steve Bennett himself for putting these awards together every year, then Galton and Simpson were a perfectly understandable option.
If the awards were predictable though, the same could not have been said for the presenters, who, apart from Harry Enfield, Omid Djalili and Caitlin Moran, who got one of the biggest cheers of the night, sounded more like a shortlist for a new reality TV series than a line-up of comedy groupies and included Helen Flanagan, Adamski, and Jeni Barnett. The best moments? When Pappy's techie James Lowey picked up their award in their absence and with immaculate but accidental timing promptly dropped it on the floor and cracked it. Or when Tony Law gave his award to Phil Nichol so that Nichol would have to look at Law's name every day. Weirdest thing was the strange whiff upstairs. I arrived slightly late. Did I miss something?
Actually the best moment of the event was host of the night Jo Brand's pained polite smile while Mick Miller delivered a stream of antique dodgy jokes the like of which haven't been heard since the Wheeltappers and Shunters Social Club in the 1970s. Miller, by the way, was giving out an award, not receiving one. Now if only he had been receiving one I would never have predicted that.
Here are the full nominations if you want to play guess the winner yourself. Or click here if you can't wait to find out the results. 
Best newcomer in association with ALCATEL ONE TOUCH:
Lucy Beaumont
Adam Hess
Sunil Patel
Tommy Rowson
Breakthrough act in association with Impressive PR:
Doctor Brown
Pat Cahill
Daniel Simonsen
David Trent
Club comic:
Susan Calman
Tony Law
Phil Nichol
Paul Sinha
Best compere:
Susan Calman
Jarred Christmas
 Joe Lycett
Jonathan Mayor
Character or sketch act:
Austentatious
Dr Brown
Brian Gittins
Marcel Lucont
Pappy's
Music and variety award:
Boy With Tape On His Face
The Horne Section
Loretta Maine
The Rubberbandits
Best show:
Susan Calman: This Lady's Not For Turning
Jim Jefferies: Fully Functional
Tony Law: Maximum Nonsense
Pappy's Last Show Ever
Best tour:
Boy With Tape On His Face: More Tape
Greg Davies: The Back Of My Mum's Head
Stewart Lee: Carpet Remnant World
Mark Thomas: Bravo Figaro
Best DVD:
Louis CK: Live At The Beacon (download) Fist Of Fun Series 2
Stewart Lee: Carpet Remnant World Glenn Wool: No Land's Man
TV award:
Alan Partridge: Welcome to the Places of My Life and Open Books with Martin Bryce
Fresh Meat
The Thick Of It
Peep Show
Radio award:
Irish Micks And Legends
The Horne Section
John Finnemore's Souvenir Programme
The News Quiz
Internet award
Pappy's
Flatshare Slamdown
Peacock & Gamble's Edinburgh podcast
Richard Herring's Leicester Square Theatre Podcast
Stuart Goldsmith: The Comedians' Comedian Podcast
Award for innovation:
Alternative Comedy Memorial Society
Louis CK for cutting out the middle man
Weirdo's comedy club