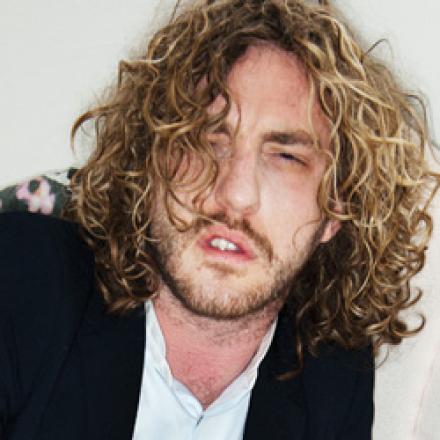 Just before the Edinburgh Fringe started I interviewed Seann Walsh for The Independent on Sunday on the ups and downs of drinking. Walsh has something of a reputation as an imbiber. He has talked about it in his past shows and picks up the theme in his current show, The Lie-In King, at The Pleasance. You can read the original piece here, but the full, uncut transcript is below. 
We met, appropriately, in a bar (on the South Bank in London) but Walsh was strictly on water as he had a preview gig that night and doesn't drink before shows. He was very nice and very open. His publicist said that he prefers to do interviews face-to-face but I did a follow-up interview on the phone and he was just as nice and just as open then. During the interview he self-consciously smoked an electric cigarette. He didn't seem convinced. Sure enough I bumped into him last night in the bar - where else? – at The Pleasance and he was smoking a real cigarette.
BD: You are buying a flat at the moment?
SW: I moved to a nice road in Shepherds Bush about a year ago, in a kebab-y area and now I'm buying somewhere. It's very difficult to be funny when you are talking about share of freehold. It's all very new to me. I only found out about credit ratings this week, I didn't realise that all those times that I didn't pay for things in time had consequences. I just couldn't be arsed to pay for them and just paid the five pounds fine.
BD: What is The Lie-In King About? 
SW: If it's about anything it's about trying to sort myself out. I moved to London and moved in on my own to get away from the person that I had been in the previous shows, but actually I was just trying to get away from myself and failing miserably. I talk about how I'm not a kid any more and I'm trying to live on my own. The idea was that by living on my own there is nobody to say "lets have a drink," but it's not working.
BD: So you haven't quite turned over a new leaf? 
SW: Absolutely not. The start of the show is a knock at the door. I open it and realise knock and run has been done on me. I was the sort of person that did that. I realise I have to sort my life out now.
BD: Did comedy make you more of a hedonist?
SW: Comedy straightened me out. I don't know what I'd be doing if I didn't do this. I didn't pay attention at school, I got kicked out of college. Comedy is scary and it can sometimes take the enjoyment out of it, that I have to do this. It's not nice to have to do anything! When I was much younger I was in trouble with police. I have friends that were going that way but actually they all sorted themselves out, it was a phase I think. It would be dramatic to say I could've been a dealer. I don't think that would've happened but I definitely would've had six kids!
BD: You do seem more professional lately. I've noticed that you have started to wear suits onstage.
SW: When I started out for the first two years I had nothing. I had one shirt and one pair of jeans with holes in them, not as a fashion statement but because I didn't have any other jeans. My favourite comedians were Lee Evans and Jack Dee and it was an  aspiration to do a big show and wear a nice suit. If you wear a nice suit then the audience is less likely to judge you before you speak. They wait for you to get to the mic, whereas with some comedians the audience has already decided 'he's a cock' because he wears x. A suit is less to be judged by.
I hope I haven't put myself in a corner where I can't wear casual clothes. Are people going to see me in jeans and go 'has he had a breakdown?'? I think I always look like I've had a breakdown even in a suit!
BD: Tell me about your past Edinburghs 
SW: This is my fourth solo show. I did a package show then the year before that a Free Fringe. I was very hangover for that, it was in the afternoon. I once did a morning show in my pyjamas. I had no idea what I was doing, it was my first time and I was very naive. I didn't know about Edinburgh, what it meant, or the awards, that it was where people went to become something. I was just pissing about standing in front of people. 
Even when I did my first solo show I was still very unaware of what it meant. It hadn't engulfed me. I really regret that and really wish I'd left it a year. I didn't realise people were judging me. When I did my first Edinburgh solo show I had barely been going three years. I wasn't a constant gigger, I didn't know how to go off script. If a gig was going well I really enjoyed it but if someone, say, dropped a cup I didn't know what to do. It's the judging that I find difficult. In Edinburgh the mistake exists beyond the show. There's consequences and I hate that.
That year I had a panic attack onstage and I had to fall to the floor halfway through and the show had to stop and people had to leave. It was all too much. I'd always wanted to do comedy and it had always been fun apart from the stress when you get a bad gig but because the show wasn't ready I'd have another bad show and another bad show and there was no relief. So one day I went onstage and for some reason I started at the wrong point and skipped the first ten minutes and I couldn't come off script so I didn't know how to go back. Now it wouldn't be a problem but back then I couldn't breathe and had a strange feeling in my teeth and thought I was going to die and then I collapsed. I think it must have been drink-related and smoking roll-ups and drinking a lot of coffee. I didn't understand the repercussions of drinking coffee, smoking and doing show after show and drink, drink, drink…
BD: Do you have any health tips for surviving Edinburgh? Try not to drink so much? 
SW: Last year I thought I was a bit better but apparently I wasn't. The problem is the same as when not in Edinburgh. A good gig is a good day so you have a drink with your mates and if you have a stinker you go, fuck it, let's go for a drink. There is always a reason for alcohol. So many different bars to go to, then you bump into more comedians and go to another bar. That's the kind of night i've tried to stop, but I tried to stop last year. Sometimes I had to lock myself in and not go out. There was one night out where the next day every time I tried to eat I threw up. Nothing would go down. I ended up doing my show with only half a banana in my system. Great gig! Maybe I should do that more often…
BD: You favourite tipple?
SW: Guinness and red wine. I like them all, it depends what mood I'm in.
BD: Do you have a hangover cure?
SW: I've never been able to cure a hangover. Time and Alka Seltzer are supposed to help. I never drink with a hangover or before a gig, knowing how addictive my personality is I don't think that would be a good idea. I know some people who do and can be hilarious onstage, but I wouldn't be. I wouldn't be able to stop with one drink, I would go down a bad road. Also the audience is drinking so you kind of need to be in charge to look after everyone. I have always had the worst hangovers. I am terrible. I really suffer because I smoke. When I'm stressed I smoke 30 a day. Dehydration is bad. The worst hangover I've ever had was when I fell asleep with my head next  to a hot radiator.