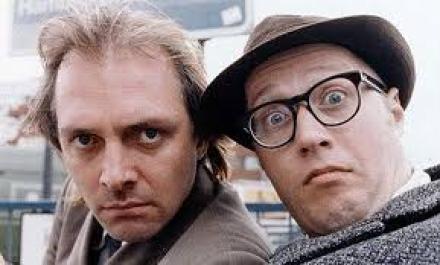 I've interviewed Rik Mayall a few times and he was probably just as odd before his major quad bike crash as after it. This interview dates from 2003, five years after his accident, and while the chat was supposed to be about the live tour of Bottom with Ade Edmondson, the head injury that nearly killed him was still, no pun intended, on his mind. Mayall is about to return to our screens as the dad of Greg Davies in the new sitcom Man Down, which starts on C4 on October 18. And yes, we know that Greg Davies and Rik Mayall look as if they were separated at birth and then Davies ate a lot more oats...
Rik Mayall is cradling my scalp from ear to ear to demonstrate how the surgeon was going to slice off his cranium, like taking the top off a boiled egg. It's a crisp Saturday morning in the Brighton Hilton and I thought we'd be discussing Bottom his slapstick double act with Ade Edmondson rather than his head. But the conversation always returns to the near-fatal quad bike accident on his Devon farm on Thursday 9 April, 1998. 'He had to clear out some blood that was sloshing around dangerously. Luckily, the next time I went back it had cleared by itself.' The event even crops up in the current show, Bottom: Weapons Grade Y-Fronts, in which Mayall reprises his role as scrofulous loser Richie with Ade Edmondson as his psychopathic sidekick, Eddie. When Edmondson whacks him on the temple a dazed Mayall exclaims, 'Quad bike flashback'.
Sometimes Edmondson ad libs by hinting that he may have cut the brake cables. In reality, when Mayall emerged from his five-day coma and couldn't speak, his loyal partner told him they could set the next run of Bottom in prehistoric times so that he'd only have to grunt.
Of course, some critics would argue that Mayall's work has been predominantly prehistoric. Ever since his breakthrough in The Young Ones 20 years ago, sophisticated repartee has always taken second place to puerile gags.
Both he and Edmondson have now taken scatology to its logical conclusion and relocated the action, almost entirely, to inside a toilet.
Inevitably, it will be panned by some critics, but Bottom is a true guilty pleasure. It is impossible not to laugh as Mayall's hand is inserted into a shredder or, in a spot of speeded-up stage magic, the duo re-enact the entire first half in two minutes. Mayall, once so close to death, has never felt more alive: 'Getting a huge laugh nourishes me.' He likes to tease, too.
'Occasionally, when the audience laughs at the quad-bike gag, I'll pretend to lose my temper and say, "Oh, you think that's funny?"' This gets an even bigger laugh.
Mayall, 45, is fully recovered, from both the 1998 accident and last night's gig. He looks fit in jeans, fleece and trainers and is drinking double espresso, though he hardly seems to need a caffeine fix to be fired up. As he explains, with a slightly manic grin, 'I'm as fine as I ever was. I think it's God who should be pissed off. I must be the better son because Jesus died on Good Friday and came back on Monday. I went on Crap Thursday, as my kids call it, so I beat him.' There is a definite change in him, though.
He has the air of a man with a zest for life.
He leaps around the room like a big kid, determined to make every second count, which is probably how he came to be prosecuted twice for speeding in his Mercedes earlier this year. Everything excites him, even a fan telling him that he and Edmondson are 'the Status Quo of comedy'.
Mayall's accident occurred when he had just turned 40 and a midlife crisis was looming. Since then, he has made very firm career decisions. For one thing, he and Edmondson ended Bottom's BBC run, preferring to retain control over the characters by restricting them to tours and lucrative video releases.
Click on "next" below on the right to read more.