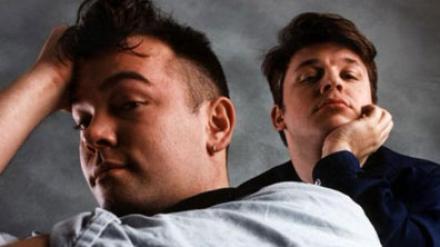 It's amazing what you can find when you go rummaging around in your cellar. This feature on Richard Herring and Stewart Lee appeared in Vox (a monthly magazine from the NME's publishers) in May 1995 to tie in with the first TV series of Fist of Fun on BBC2 and was one of the first comedy features I wrote (excuse the clunky bits). It is a real Blue Peter-style time capsule, interesting for all sorts of reasons. No mention of the internet, no mention of imminent comedy titans Ricky Gervais, Steve Coogan or Chris Morris, although L&H would certainly have known of CM & SC through their work on the radio show On The Hour. The only way to place the series was to compare it to Dave Allen, Monty Python and Tony Hancock (ask your dad).
This is a timely point to run the piece. Stewart Lee is currently on Comedy Central curating The Alternative Comedy Experience and Richard Herring is currently on a national tour of his acclaimed show, Talking Cock. Details here. Fist of Fun may also have been the first time I encountered Kevin Eldon, who played recurring oddball Simon Quinlank, king of hobbies and lover of weak lemon drinks. Nearly two decades later Eldon has just landed his very own BBC2 series, It's Kevin, starting this Sunday (March 17).
The more things change, however, the more they stay the same. Back in 1995 Stewart Lee was already being compared to people he resembles, though here he will be delighted to discover that he is a "cooler, bequiffed Terry Christian." The article, incidentally, was painfully headlined "Twisting My Sobriety" (not my idea), a reference to the 1988 single by Tanita Tikaram (ask your dad again).
Once upon a time there were two teenage smartarses. One stood up at his Somerset school's revue and sang a self-composed ditty entitled "my penis can sing", the other did sarcastic routines when he represented his Birmingham peers on the school council.
Ten years and two Oxford degrees later, Richard Herring and Stewart Lee haven't changed much. Herring can't get a girlfriend to save his life and he hasn't made it any easier by approaching his role in Richard Herring is Fat at last year's Edinburgh Festival like Robert De Niro. putting on two stone by method eating his way through the Cadbury's catalogue. Lee, meanwhile, has a thriving career as "the third most rigorous stand-up in the country" and now looks like a cooler, bequiffed Terry Christian.
Despite their difference – Herring is a veggie who grew up on Monty Python albums, Lee is a voracious meat-eating indie fan – they evolved an alliance through their no-sleep-till-campus university tours and by working together on Radio 4's On The Hour. Their first prime-time TV slot, Fist of Fun, begins this month on BBC2. Now we can all savour what Herring calls their "celebration of uselessness".
Radio 1 listeners will already know Lee & Herring from their radio show. The visual version allows them to take full advantage of the artwork sent in by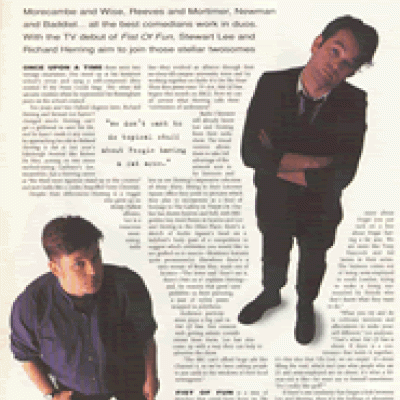 listeners and lets us see Herring's impressive selection of shiny shirts. Sitting in their Leicester Square office they point to pictures which they plan to incorporate as a kind of homage to The Gallery in Vision On. One fan has drawn heaven and hell, with BBC golden boy Andi Peters in heaven and Lee and Herring in The Other Place; there is a sketch of Andre Agassi's head on a ladybird's body (part of a competition to suggest which celebrities you would like to see grafted onto insects – Morrissey features quite prominently). Elsewhere there is a tasty mosaic of Brian May made out of liquorice – "The letter said 'don't eat it, there's Pritt on it'" explains Herring – and for reasons that good taste prohibits us from pursuing, a pair of nylon pants wrapped in polythene.
Audience participation plays a big part in Fist of Fun. Not content with getting artistic contributions from them Lee has also come up with a way they can help to advertise the show. "The BBC can't afford huge ads like Channel 4, so we've been asking people to put cards in the window of their local newsagents."
Fist of Fun is a mix of sketches that could have been on The Dave Allen Show and or The Two Ronnies (bishops auditioning priests in the style of Fame, neighbourhood gatherings in which the folks next door turn out to be psychopathic snoopers) and full of contemporary references from Ice-T to Supermarket Sweep.
"We don't want to do any topical stuff," says Herring. "Like when there is a news story about Fergie you just tack on a line about Fergie having a fat arse. We are more like Tony Hancock and Sid James in their series. The humour comes out of being semi-employed in South London, trying to make a living surrounded by friends who don't know what they want to do."
"What you try to do is cultivate interests and affectations to make yourself different," Lee analyses. "That's what Fist of Fun is about. If there is a contrivance that holds it together it's this idea that 'Oh God, we are empty". It's about filling the void, which isn't just what people who are 25 and semi-employed are on about, it's what a 50-year-old is like – he must say to himself sometimes, 'do I really like golf?'"
If there is one similarity that forges a link between Lee and Herring then, it's the feelings of alienation that underline their muse. "You never move on. We got into comedy to get away from going into an office every day and now we are going into an office every day. Except now we've got filing cabinets with labels like 'bum jokes' and 'toilet humour'."