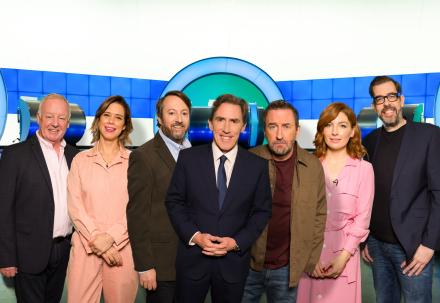 Delighted to see my esteemed colleague Dominic Maxwell singing the praises of Would I Lie to You? in The Times this week. Maxwell called the long-running fib-telling panel show "the most consistently funny, consistently joyful television show of the century." Admittedly the century is barely 20% through and who knows what the BBC – if they still exist – might come up with in 2059 to implant directly into our cerebral cortex, but this is still deserved praise indeed.
The first episode of the new series features regular host Rob Brydon and regular panellists David Mitchell and Lee Mack joined by Richard Osman, Alice Levine, Lou Sanders and Les Dennis. It's a particularly busy night for Lee Mack. As soon as the curtain falls he has to rush over to the Not Going Out set to star in the first episode in their new series at 9.30pm.
Oh and if you are wondering where Lou Sanders got her natty jump suit from she says: "it is made by a v talented friend from in Broadstairs and it's heaven! You can get one made from @nova_clarkes_workshop."
It's a strong opening panel with a good mix – though of course it could do with more female comics – but they have some tough acts to follow. Bob Mortimer has pretty much owned the show when he has appeared on it, spinning out his stories about cracking eggs in baths, breaking apples in half with his bare hands and doing his own dentistry. You can see some of Bob's finest moments here and here.
James Acaster has also been a star of the show, particularly with his tale of what the Kettering Fire Brigade gets up to in its Boxing Day downtime. See that here.
And who can forget Lee Mack and Miranda Hart sharing the same "cuddle jumper"?
And it's pretty family-friendly too, which is handy in these lockdown times when you've got different generations trapped in the same house.
I've just got one query about this first episode. I'm guessing that perhaps the picture above is photoshopped due to social distancing. We all know that Richard Osman would be the tallest member of the panel but Rob Brydon appears to be taller than Lee Mack. According to google Lee Mack is 1.83m and Rob Brydon is 1.7m. Would the picture be lying to us?
Would I Lie To You?, hosted by Rob Brydon, From January 8, Fridays, 9pm, BBC One.
Read the Times piece here - it's paywalled though.
Image Credit: BBC/Zeppotron, an Endemol Shine Company/Brian J Ritchie
Photographer: Ellis O'Brien