Alison Steadman is one of the stars of BBC one-off comedy Pandemonium, alongside Katherine Parkinson and Jim Howick. Tom Basden also stars in it and also wrote it.
Tom Basden previously wrote and appeared in the hit ITV2 comedy Plebs. He was in the sketch group Cowards and often works with fellow Cowards member Tim Key,

Read interviews with Katherine Parkinson and Jim Howick here.
Read interviews with Jack Christou, Freya Parks, Tori Allen-Martin and Mica Ricketts here.
Pandemonium is on BBC One on Wednesday, December 30 at 9.45pm
Interview with Alison Steadman

Character Overview - Sue Jessop
Paul's blunt and buoyant mother, Sue takes a very cavalier attitude towards the Coronavirus and is constantly breaking the rules to come over and check up on the family. Despite her apparent conservatism, Sue is in fact open-minded and playful and has a wild past that she rarely talks about.
What drew you to the project?
Tom (Basden) is a great writer, gentle funny and very witty. I loved filming Pandemonium. Great writing, subtle humour and loved the team. Also, I admire Katherine Parkinson and Jim Howick.
What can you tell us about your character? Did you relate to Sue at all?
I'm a million miles from the character of Sue, thank goodness. It was great to be playing a Liverpool character though, I've rarely done that.
Do you have any favourite moments from filming?
I loved being in Kent, although it was freezing weather. Didn't know about Reculver Towers and the Roman Fort which was good to learn. We had some free moments of improvising too, I loved that, even if it isn't used.
Interview with Tom Basden, writer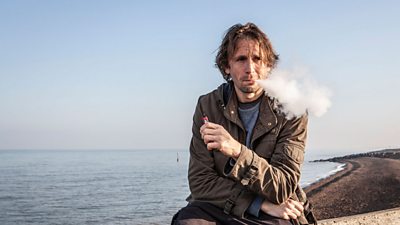 Robin (Tom Basden)
Character overview - Robin Hankey
An intense and occasionally manic presence, Robin tries to spend all of his time with his sister Rachel's family when he can (including holidays) and has no idea when he might be outstaying his welcome. When we first meet him in February, he's on cloud nine - preparing for his summer wedding to Cherry - but in October, he's morose and self-destructive and a terrible holiday companion.
What inspired you to write Pandemonium?
I'd wanted to write a sitcom about a family going on holiday for some time, as I think there's something really funny and high stakes about people under pressure to have a good time together, and the stress and anger this tends to produce instead.
Seeing the extreme lengths families were going to this year (including my own) to have any kind of holiday during the pandemic, I realised how essential these moments of escape were for us and wanted to celebrate the hope and desperation that compelled families to make the best out of a terrible situation.
Growing up, I was a big fan of the National Lampoons Vacation films, and I wanted to capture some of that warmth and chaos that comes from a group of people with very different attitudes, all bundled together and unleashed upon the world.
Tell us how Pandemonium was filmed.
The show is all shot by Sam, the youngest son, on his video camera or on a few little cameras he's fitted around the place, so it's effectively a home movie. My Grandad used to film our holidays to Cornwall when I was a kid and his videos were often very funny by accident, because he'd capture things that were embarrassing or ridiculous despite setting out to make the family look happy and harmonious. I also liked the idea of a family talking to the camera and being aware that they were being filmed as it puts them under even more pressure to project positivity while everything is going wrong around them.
Did you have any particularly memorable moments from filming?
We recreated the clap for the NHS in a street in Mill Hill (in November) and loads of the neighbours came out their houses to be part of it. Kids were running home from school in their uniforms and quickly getting changed to then come and be part of the clap which was really lovely. It was quite odd and moving to be transported into the early part of this year - which now feels like about five years ago. I also had to jump in the sea in late November which is memorable for the wrong reasons.
What is your character Robin like? Do you have a favourite character?
Robin is a bit of a mess. At the start of the year he's manically excited about his upcoming wedding to Cherry, but then in October he's miserable and self-destructive after the wedding plans change. Playing both sides of a character like that was great fun and the scenes with Cherry, played by Tori Allen-Martin, were some of my favourites. I'm not going to pick a favourite character - that's famously bad parenting.
If someone asked you what other TV is Pandemonium like, what would you say?
I'd probably tell them to watch it and then work that out after. My aim was to make something that felt real and recognisable, so I hope it's got the tone of sitcom classics like The Office or Outnumbered, with some of the warmth of Gavin And Stacey, and even though it looks pretty different, something like The Simpsons. And it's full of things that happened to us this year so, in another sense, it's a bit like the News.
Pictures of Alison Steadman and Tom Basden: BBC
Interviews supplied by BBC