With family morale at an all-time low, the Jessops (Rachel and Paul, played by Katherine Parkinson and Jim Howick) decide they're going to have their summer holiday after all, even if it means doing it in October. In Margate. All filmed by their youngest son, played by Jack Christou, Pandemonium charts the Jessops last, dogged attempt at some quality family time in 2020, despite the best efforts of a global pandemic to pull them apart.
One-off comedy Pandemonium is a BBC Studios production for BBC One written by Tom Basden. It stars Freya Parks, Jim Howick, Tom Basden, Alison Steadman, Jack Christou and Katherine Parkinson. It was commissioned by Kate Phillips, Acting Controller BBC One and Shane Allen, Controller Comedy Commissioning. The Executive Producer is Josh Cole. The Commissioning Editor for the BBC is Gregor Sharp.
Jack Christou was previously in Doctors.
Pandemonium is on BBC One on Wednesday, December 30 at 9.45pm
Read interviews with Katherine Parkinson and Jim Howick here.
Read interviews with Alison Steadman and Tom Basden here.
 Interview with Jack Christou

Sam Jessop (Jack Christou)
Character overview - Sam Jessop
Youngest son Sam is the self-appointed director of the Jessop family's home movies, although he does occasionally like to offer his opinions or make observations that the others have missed. Extremely calm under pressure and no-nonsense, Sam is very much the emotional detached documentary maker.
Can you tell us about your character and his relationships in Pandemonium?
Sam (Jack Christou) is the youngest sibling in the Jessop family. He has one older sister, Amy, who he loves to annoy and embarrass but loves her almost as a best friend. The house is ran by his mum who he has a great relationship with (he's a momma's boy) but spends most of his time messing around with his dad on his hobbies and interests. He loves his nan but thinks she's barmy and is always thankful for when she slips him 20 quid. And uncle Robin is just Uncle Robin.
Can you talk about how Pandemonium is filmed?
The show is all filmed from Sam's perspective. He takes it upon himself to film the family as a project of his and Pandemonium is the documentary that is the outcome.
Do you have any favourite moments from filming?
My favourite moments of filming were all of the parts where we shot as a whole family. I loved the dynamic of all of us together as we all bounced off each other like clockwork. It was so fun and VERY hard to keep a straight face.
There's so much to watch over Christmas. Give us one really good reason Pandemonium should stand out as one to watch?
It's a very interesting and exciting way that we filmed the show. And it is absolutely hilarious! Who doesn't need a laugh during these treacherous times...
Interview with Freya Parks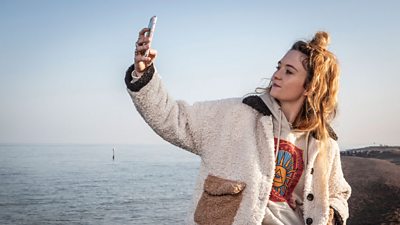 Amy Jessop (Freya Parks)
Character overview - Amy Jessop
Judgemental but deeply fickle, the Jessop's eldest daughter Amy is unimpressed by almost everything, no matter how gushing her social feeds may be. She has a dry humour and winning irreverence and her favourite pastime is teasing her long-suffering dad.
What is Pandemonium about?
It's about a family who are determined to have their big family summer holiday despite a global pandemic.
Can you tell us about your character Amy and her relationships in Pandemonium?
Amy is the daughter of the family. She'd much rather be hanging out with her girlfriend, Maya, at Uni, or be burying herself in the world of Instagram, than suffer life with her parents who are desperately trying to make the best of what is a very bad situation.
Was there a standout moment during filming?
I don't want to give too much away but we all bonded a lot during the filming of one particular scene by the sea on the South East coast of England. In October. We were hoping for more of a Californian climate!
There's so much to watch over Christmas. Give us one really good reason Pandemonium should stand out as one to watch?
We are all sick and tired of Covid and the hokey cokey lockdowns being the new normal, but having all gone through it together, Pandemonium will give some comic relief to the chaos we have all endured. There'll be something for every member of the family to relate to.
Interview with Tori Allen-Martin 

Character - Cherry Lee-Dixon
Robin's high-maintenance fiancé Cherry has high expectations and is often disappointed by Robin's poor attempts to meet them. Utterly certain of her own opinions and partial to a good conspiracy theory, Cherry is blissfully un-self-aware and superbly blunt.
Your character Cherry is the fiancé of Robin, can you tell us about Cherry and Robin's relationship?
It's not what I'd wish for myself... or for anyone I love for that matter, let's put it that way! Robin idolises Cherry, which is absolutely lovely, but I think it becomes a bit suffocating. I think Cherry is just desperate for Robin to be better! I think he maybe gave it the big guns in the beginning, and she thought he had a bit more swag to him than he actually does.
I think she's desperate for him to get it right and sweep her off her feet, but he keeps getting it wrong and the more he desperate he is to please her, the more repulsed she becomes - it's pretty toxic. But that makes for a very funny dynamic, in the right hands and Tom is definitely the right hands, he's expertly manoeuvered his way around something that could be otherwise pretty bleak!
What was it like to work with your fellow cast?
It was an actual dream. I know people always say that, but it really was, particularly in such a difficult year. My crush on Alison Steadman is different gear, and when I heard the line-up and knew I'd be working with not only Alison, but also Katherine, Jim and Tom I couldn't believe my luck. They're comedy legends and such experts at what they do -it was a pleasure and a privilege, honestly. And Mica, Freya and Jack are such exciting new talent too and we were instantly giggling with each other - the job was so quick, but we bonded super quickly and it feels like I've known them a lot longer than I have.
It's just a joy to be in a room with people who throw new choices at you all the time, I was constantly on my toes because all of them would pull some genius move out the bag when I least expected it and that's such an exciting way to work - add into that the fact that we've been missing human connection for the majority of this year -I can't tell you how lucky I felt. I felt supported, excited, there was so much to learn from them and they're just very lovely, very funny people - it's the kind of job and cast you dream of, honestly. I feel so lucky to have been a part of it. Never meet your heroes unless they're anyone in this cast basically - because they do NOT disappoint.
Was there a standout moment during filming?
I mean most of it. We did do a scene in the garden where I had a stiletto heel on and I had fully sunk into the mud, I was honestly stuck. If there'd been a need to run, I would've just been resigned to my fate - I wasn't going anywhere. Tom was fully aware of the situation too, so that was quite funny - trying to treat that as normal. I think as well, a scene we're all in together, sat around the table and the ad-libs and choices coming out made it impossible to keep a straight face. Jim has a milk moustache at one point when I least expected it and I very nearly lost it.
There's so much to watch over Christmas. Give us one really good reason Pandemonium should stand out as one to watch?
It's a nod to this unforgettable (for all the wrong reasons) year that we've all been through in the most lighthearted, relatable, authentic, hilarious way. Us Brits are good at laughing at ourselves and Pandemonium allows us to do that to this messy year. We all know how difficult it's been, but in a laugh or cry scenario, this is definitely a knowing laugh and a big warm hug - Pandemonium lets us all in on the joke and it's a really good feeling.
Interview with Mica Ricketts

Character Overview - Maya Hughes
Easy-going and bright, Amy's girlfriend Maya is a relaxed, good-humoured honorary family member. Perceptive enough to see through other people's bravado, Maya is able to find the fun in the bleakest of situations.
Can you talk about your character Maya and her relationship with the Jessop family?
Maya is Amy Jessop's best friend and lover. She very much feels like part of the family, having been friends with Amy since childhood. She is highly entertained by the different characters within the household and tends to especially enjoy when Paul teases or embarrasses Amy.
What was it like to work with your fellow cast?
It was amazing working with this cast. So much talent and fantastic personalities that made rehearsing the scenes really funny and hugely productive. Everyone just threw themselves into the script and there was a really easy comfortability between us all that made the relationships so much easier to create on screen.
Was there a standout moment during filming?
The standout moment for me was the first full cast read through, where we all met for the first time and I could finally visualise the scenes and characters coming to life. It's like everything was starting to come together and it was really exciting!
What can the audience expect from Pandemonium?
The audience can expect a thoroughly entertaining show - hugely relatable - and some much-welcomed comedy as we come to the end of a really difficult year!
There's so much to watch over Christmas. Give us one really good reason Pandemonium should stand out as one to watch?
Pandemonium should stand out because of its originality. I think it's amazing how this show has created a great show with a really positive and uplifting energy, amazing writing and vibrant characters - out of what has been such a difficult and trying year. To find light in the midst of all the pain and heartache of this year is important - There's simply nothing else like it!
Pictures of Jack Christou, Freya Parks: BBC
Interviews with Jack Christou, Freya Parks, Tori Allen-Martin, Mica Rickettssupplied by BBC