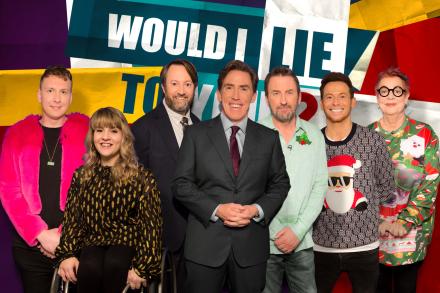 Would I Lie To You? returns for a seasonal Yuletide edition and plenty of Christmassy comic truths and untruths from guests Joe Lycett (who famously invited the local Mayor to open his new kitchen extension in Birmingham), Ruth Madeley, David Mitchell (who returns to C4 in the New Year in a second series of quirky comedy Back), the always-good-value Lee Mack, Joe Swash (whose girlfriend Stacey Solomon still swoons over him) and Crystal Palace supporter Jo Brand. Hosted, of course, with impeccable style, by Rob Brydon.
Tune in to find out if Ruth Madeley really makes her dog wear earmuffs to protect him from noisy crackers and much, much more.
It's a series that can be easily chopped up into neat little packages and lends itself to the YouTube age with clips of some of its finest stories going viral. You can relive Bob Mortimer's tale of Chris Rea dvising him to crack an egg into his bath at any time, or even spend a whole evening watching a compilation of Bob Mortimer's greatest stories.
And then there is James Acaster, whose best bit was when he claimed to know surprise guest Jerry. Acaster said that Jerry is one of the fireman who every Boxing Day soaks him with water during a festive game of Squirt. Acaster went on to explain the rules of Squirt – every year residents of his home town of Kettering gather on a bridge while volunteer firemen in two teams below them aim their hoses at a barrel suspended above them, causing water to cover the crowd. But was James telling the truth? Watch here to find out.
Would I Lie To You At Christmas? Thursday, December 24, BBC One, 7.45pm.
Image Credit: BBC/Zeppotron, an Endemol Shine Company/Brian J Ritchie
Photographer: Brian J Ritchie
Pictured L- R: Joe Lycett, Ruth Madeley, David Mitchell, Rob Brydon, Lee Mack, Joe Swash, Jo Brand