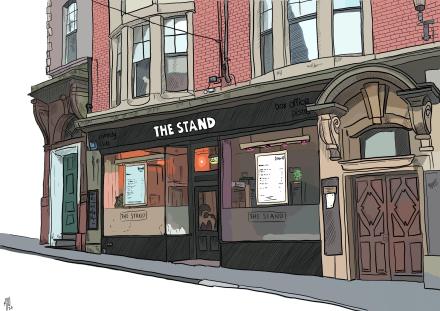 Comedian and illustrator Matthew Reed is selling prints of his portraits of The Stand Comedy Club to raise money to helpt to keep the comedy chain going.
The Stand is one of many clubs to have been hit by the pandemic. It has three branches in Edinburgh, Glasgow and Newcastle and the Newcastle club was dealt another blow this week with the new 10pm curfew in the north-east meaning that the regular in-house shows on Friday and Saturdays cannot currently go ahead. Luckily there are also earlier shows coming up so there will at least be some comedy there.
Reed himself is from the north-east and has performed regularly at The Stand. He posted on social media: "The Stand is in trouble, comedy is in trouble. The Stand is a place where some of the weird and wonderful get a chance to do comedy. It's where some of the biggest names in comedy started. It's where some of the oddest people in the world got a chance to be themselves. But mainly it's where thousands of people forgot all their problems while they watched the imbeciles on stage do their best to make them laugh. Some failed but people still left with a story about their night in these amazing clubs. There is nothing as good as a comedy night in a packed room laughing till it hurts. Surrounded by friends or even on your own.
There's very few comedy clubs as important to the scene as The Stand."
The club has already set up a donation page but you can also support it by buying one of Reed's prints. One is pictured here and you can also see them all on his Instagram page where you can contact him if you want to buy one. Both the colour and black and white designs cost £15 each, plus postage of £1.50. 
Contact Matt Reed and see other illustrations here.