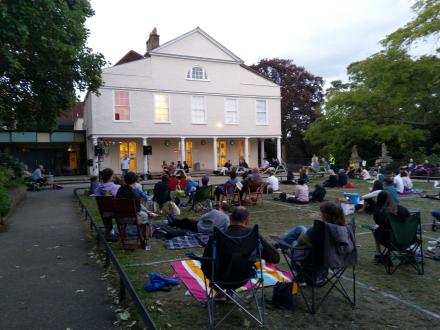 The main feeling was one of relief. And joy. And delight. And, bloody hell, this Coke is expensive, but who cares? And other positive things. On Friday night Lauderdale House in Highgate had the honour of what they claimed to be London's first post-lockdown socially distanced stand-up gig that isn't a drive-in. 90 people gathered on their tea lawn in designated squares and on a few benches and enjoyed an almost transcendental night of comedy. 
In a way it was almost business as usual with compere Matt Richardson – who also booked the acts - not really making much reference to the pandemic and instead mainlining straight into the kind of gags that you would always hear at a middle class gig. Fleeces were mocked. Local house prices were mentioned. Brie was alluded to. It certainly got the audience onside, not that they needed much cajoling.
First act Helen Bauer ploughed in immediately with a reference to the fact that she can drink three bottles of Rosé in one sitting. I think in her full show this anecdote has a wider context, here it was more of an introductory revelation before she moved on to talking about her eccentric mother, her even more eccentric father and the fact that when she was growing up she thought the key word in the phrase "blow job" was "blow". Bauer is still relatively new but has great stage presence and supreme confidence. Her story about working in a cheese shop was worth the ticket price alone. It probably went down particularly well with the brie buffs on the grass.
Ivo Graham is something of an old hand at post-Covid gigs now. I saw him a couple of weeks ago at a drive-in show on Blackheath Common. There he dispensed with his usual act and opted for a quiz. Here he opted for readings from his prep school essays and it went down so well he could easily use it as the basis for his next full show. An impressively precocious poem about his April Fool's Day pranks went down sweetly, while a tale of travelling from Abingdon to London involved a smelly fellow passenger and some unexpected equine action. I particularly relished his use of the phrase "I overdangled".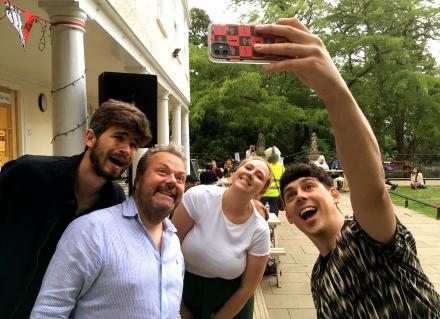 No overdangling for headliner Hal Cruttenden (top picture, in the distance) who specialises in repressed middle class rage. And after four months in lockdown his usual rage has understandably built up a fair old head of steam. On the surface Cruttenden seems like an off-the-peg observational comic but there is much more edge and darkness here than initially meets the eye, whether he is talking about state school v private school or Love Island or his own vanity. A brilliantly hilarious story about having Covid and treating his wife like a skivvy when he thought he might be on his deathbed maybe shed a little too much light on both his personality and domestic arrangements.
Al fresco comedy is not the same as classic club comedy but it certainly works. In the summer at least. Hopefully the pilot indoor shows that are happening this week will point to a positive way forward. But just having the chance to gig clearly meant a lot to the performers here. The following day Cruttenden tweeted: "This morning I feel even more emotional about this gig. Can't believe how much I missed doing comedy to an audience you can see and hear. Hope I never get blasé about it again." I think he spoke for all the acts. And the audience too. 
Details of more live shows at Lauderdale House here.
Top Picture: Katherine Ives. Group picture: Polly Hancock.