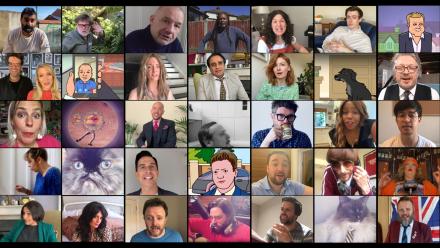 Following E4's Remote Comedy From The Paddock BBC2 launches their own self-shot lockdown rapidfire sketch show. And on the basis of the first episodes - not that this is a competition – the BBC has the edge.
It helps that the opening instalment of Home Alone features some big names and two things that are already well-established on social media. Best of the bunch is Bob Mortimer, whose supercilious nonsense-spouting Train Guy gets an animated makeover, courtesy of Ben Satchel. Train Guy is one of those instantly recognisable types that speak nonsense next to you on your daily commute. Here he's talking to "Col" about hard work and the latest pencil case design campaign: "I've got so much responsibilty on my shoulders Col I have to wear a backpack 24/7." 
And as a bonus in the first episode we also get some suggestions of cat names – Paul Falafel, Humphrey Barcode, etc – which is uncredited I think, but is another of Mortimer's Twitter antics, where he usually offers the names for sale. Oh, and if Vic Reeves fans are feeling left out, he crops up later in the series.
Meanwhile Michael Spicer's brilliantly satirical The Room Next Door finds our harrassed aide juggling childcare with advising Priti Patel on her daily briefing. So it's not surprising that things get a bit stressful when he is trying to help Patel via an ear-piece as she addresses the nation while he also plays a game of hide and seek at home. See for yourselves why she has difficulties with numbers and apologising...
There is more fun to be had watching Kerry Godliman as your achetypal embarrassing drunk mum trying to get her kids to party after she's been necking the Pinot Grigio, while Rhys James' one-liners consistently hit the funny bone: "It's not until you are wearing a plaster that you realise how often some parts of your body are wet."
And if you want some lip-synching you've got that too, courtesy of real-life marrieds Marcus Brigstocke and Rachel Parris tackling Robbie Wiliams' Let Me Entertain You and Blur's Parklife. Some excellent make-up and costumes there that could put the pros out of business and all done observing social distancing. 
And still to come in later episodes, Tom Allen, Al Murray, Sara Pascoe, Vic Reeves, Meera Syal and Sanjeev Bhaskar, Jason Manford, Reg Hunter, Phil Wang, Chris McCausland, Tez Ilyas, Russell Kane, Sally Phillips, Richard Herring (who sticks closest to the programme's original title of Comedians Playing With Themselves by playing snooker against himself), Mat Horne, and a whole host of others (including, judging by these thumbnail images, Mackenzie Crook reviving his gloriously demented track-suited stand-up character, teacher Mr Bagshaw)
In Train Guy's own words, superbio.
Comedians: Home Alone, Mondays, BBC Two from June 1, 10.15pm. 
Picture: BBC/Done & Dusted