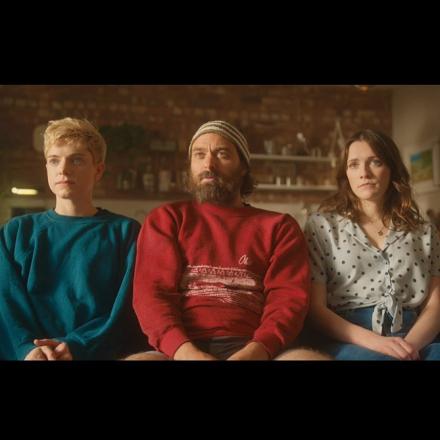 I have had a lot of creatives popping up in my timeline recently mentioning that they are going to spend their current confinement writing that sitcom they've always intended to write. There are even enterprising people offering online write-at-home courses. Well good luck, I'm sure the results will all be brilliant, but please bear in mind that these things take time. Stand-up comedian Mae Martin first talked about her new sitcom when I interviewed her back in 2017 (and what golden days they were).
Three years on Feel Good finally hits the screens and it has been well worth the wait. Martin plays stand-up Mae Martin, but this is no Seinfeld/Larry David clone. In the first episode Martin's aspiring comic embarks on a passionate relationship with George (Charlotte Ritchie) - "Mary Poppins" to her "Bart Simpson" – and things all look lovely when Mae moves into her flat.
Things aren't quite so perfectly meet-cute though. Martin is also a recovering addict and has to attend Narcotic Anonymous where she meets a similarly colourful bunch of troubled individuals including queen-of-scattiness Sophie Thompson, who becomes her rather unconventional sponsor. Martin also, we suspect, has parent issues – her mother is played by Lisa Kudrow. When it is not sad it is very funny, Mae Martin is magnetic and compelling to watch, and you really want to see how this pans out. 
Martin and co-writer Joe Hampson have obviously drawn on fact to create their fiction. London-based Martin has spoken about how she was an addict in interviews and in her Edinburgh Comedy Award-nominated show Dope. She clearly has an obsessive personality. As a child it was Bette Midler, later it was comedy that got her hooked and then it was drugs, though she is totally clean now and has been for years. At the start of this series perhaps the suggestion is that she isn't entirely cured of her obsessive tendencies just yet. She might as well face it she's now addicted to love.
If I've made Feel Good sound a bit serious for a comedy I should emphasise that there are lots of nice comic touches, such as geeky hanger Jared who brings his Tupperware meal to the comedy venue and leaves it in the cloakroom to collect at the end of the night: ("It's this big with coleslaw"). Ritchie meanwhile plays it straight and is also very watchable. I do think there might might trouble ahead for them but I'm very much hoping for a happy ending. You can find out for yourselves as the whole six-part series will be available as soon as the first episode has finished. 
Oh, and as you might expect for a comedy set partly in the stand-up world, there's lots of familiar comedy faces here too, including Phil "Doctor Brown" Burgers (pictured between Martin and Ritchie), Steen Raskopoulos, Jack Barry, Sindhu Vee and Stath Lets Flats' Al Roberts as coleslaw fan Jared.
Feel Good, Wednesdays from March 18, 10pm, C4 and the boxed set is available on All4 after first episode.